Linda Hall Library Welcomes Brian Frehner as 2022-23 Scholar-In-Residence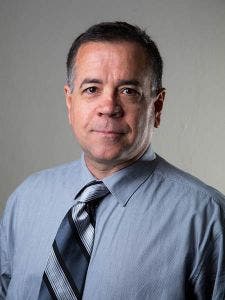 The Linda Hall Library is pleased to welcome Brian Frehner as the 2022-23 Scholar-in-Residence. Established in 2019, the Library's Scholar-in-Residence program supports talented researchers from the Kansas City area whose work would benefit from sustained engagement with the Library's collections.
Frehner is chair and professor of history at the University of Missouri-Kansas City where he teaches and researches the topics of oil, environment, technology, and the American West. Frehner is currently working on a monograph that will examine the transition from coal to oil, with a focus on Texas and California.
Along with a recently published article examining the story of how the inventors of BMX bicycle racing in the 1970s and 80s used technology to appropriate open space amidst tensions presented by suburban sprawl, Frehner is also the author of Finding Oil: The Nature of Petroleum Geology, 1859-1920 (2011) and the co-editor of two volumes: Indians and Energy: Exploitation and Opportunity in the American Southwest (2010) and The Greater Plains: Rethinking a Region's Environmental Histories (2021). 
During his residency, Frehner will use the Library's collections to conduct research on a new project, entitled Oil Transition:  Geology, Politics, and Power, 1900-1945. This book-length manuscript explores the transition from coal to oil in the first half of the twentieth century. The transition to oil within the United States occurred because of changes in science, technology, industry, and domestic and international politics. The manuscript focuses specifically on the growth of the oil industry in the Sunbelt states of Texas and California and shows that petroleum's material qualities in these particular geological environments precipitated responses from the scientific, business, and political sectors across several decades. Geologists, micro-paleontologists, and geophysicists who studied environments in these locales fashioned new methods and technologies for locating oil and, in doing so, produced surplus fuel oil that destabilized the industry and delayed the energy transition.