Scientist of the Day - Arthur Conan Doyle
Arthur Conan Doyle, the noted British author, was born May 22, 1859, in Edinburgh.  Although Conan was his middle name and Doyle his surname, he is almost always referred to as Conan Doyle, and who are we to depart from tradition?  Conan Doyle gave us not only our most memorable fictional detective, Sherlock Holmes, but also one of the most unforgetable fictional scientists, Professor Challenger. The Professor first appeared in The Lost World, published in 1912, and the Professor's unbridled disdain for the stuffy establishment scientists of his day probably reflected Conan Doyle's own views.
Of the many film versions of The Lost World, the two best are the first (1925), with Wallace Beery playing the bearded Professor Challenger (first image), and the latest, the 2001 BBC version, with the wonderfully blustery Bob Hoskins as the anti-establishment explorer (second image).
Conan Doyle was a keen follower of the latest scientific developments; for example, the discovery by Percy Fawcett of the inaccessible table-top mountain in Roraima in northern Brazil almost certainly inspired the setting for The Lost World.  So it is not surprising that Conan Doyle took great interest in the discovery of Piltdown Man in 1912, at a site not 8 miles from his adopted home in Crowborough, East Sussex; he frequented Piltdown often during the excavations. What might be surprising is that several scholars have argued that Conan Doyle was actually responsible for the hoax, salting the gravel pits at Piltdown with modified pieces of a human skull and an orangutan jaw and assorted bits of stone tools (fourth image).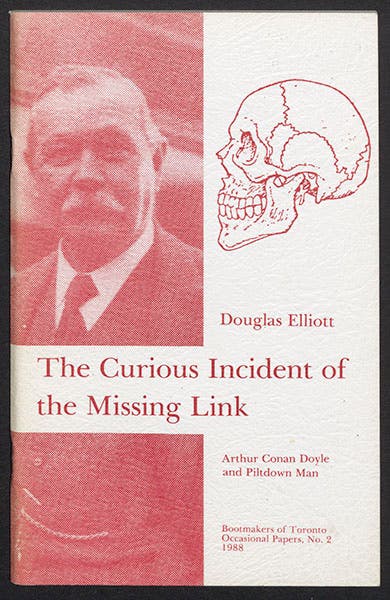 Cover of a pamphlet attempting to implicate Conan Doyle in the Piltdown hoax (author's collection)
The motive offered is that Conan Doyle was mad at the scientific establishment for attacking spiritualism, a mode of conversing with the dead that Conan Doyle took quite seriously. However, the modern consensus among Piltdown hoax scholars (and there are quite a few), is that the case is almost certainly not true, since there is no evidence implicating Conan Doyle in the fraud, except his presence in the pits, and also because his passion for spiritualism really manifested itself only after World War I.  And besides, Charles Dawson is a much more delicious culprit.
There is a bronze statue of Conan Doyle in the square in Crowborough. He ought to be looking to the south, toward Piltdown, or southwest, toward Roraima, but he is not (fifth image).
Dr. William B. Ashworth, Jr., Consultant for the History of Science, Linda Hall Library and Associate Professor, Department of History, University of Missouri-Kansas City. Comments or corrections are welcome; please direct to ashworthw@umkc.edu.