Scientist of the Day - Benjamin Thompson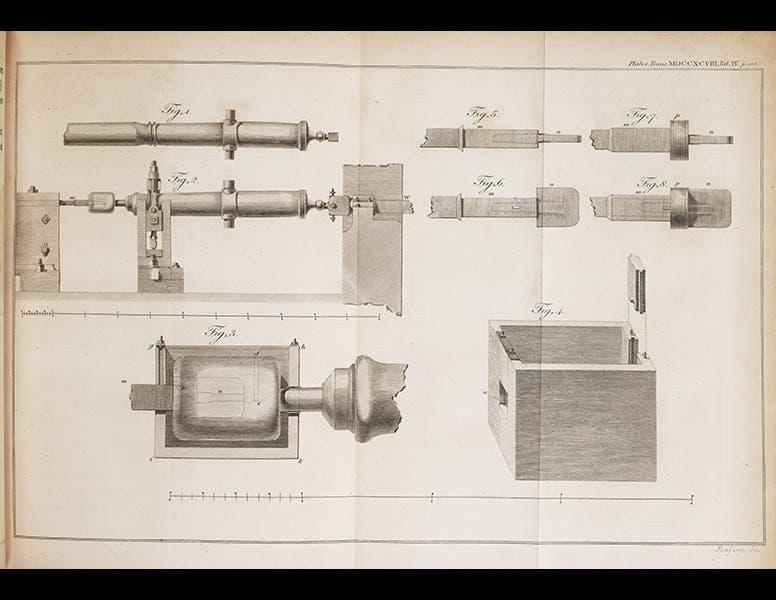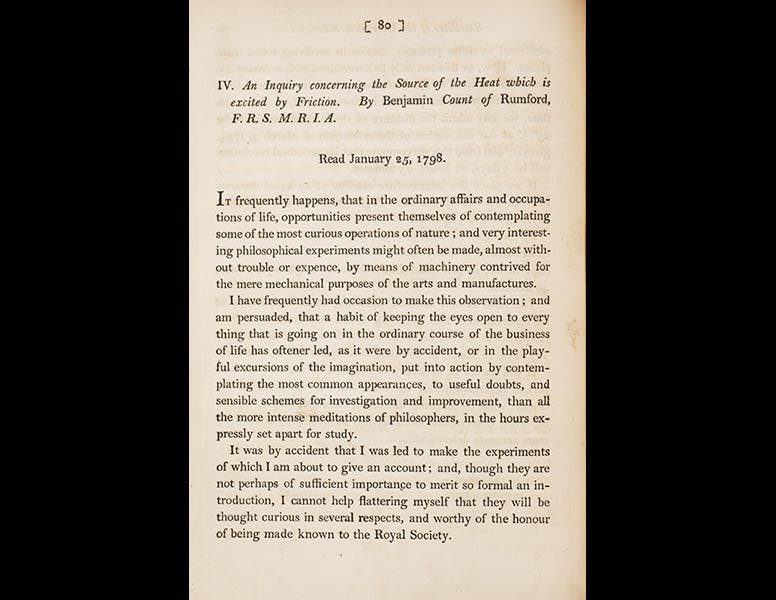 Benjamin Thompson, better known as Count Rumford, an American-born British physical scientist, was born March 26, 1753. Because he was a British sympathizer (and spy!) in his native Massachusetts and New Hampshire, Thompson was forced to flee to England, and although he came back during the Revolutionary War as commander of a British regiment, his American ties were effectively severed. Thompson would make his scientific mark by demolishing the prevailing caloric theory of heat, which argued that heat was a fluid (caloric) that passed between bodies. Thompson demonstrated by doing cannon-boring experiments that the supply of heat from the cannons was inexhaustible and must be due to motion induced by friction. His paper in the Philosophical Transactions of the Royal Society in 1798 (first and second images) effectively marked the beginning of the end for the idea of heat as substance.

Thompson's sociological imprint may have been even greater. He was sent by England in 1783 to be aide-de-camp to the Elector of Bavaria, and the Elector put Thompson in charge of reforming the rag-tag army. Doing careful studies on the thermal properties of various garments, Thompson discovered why certain materials make good insulators and others don't, and he set about re-clothing his army. When the clothing manufacturers resisted the reform, Thompson mobilized the beggars of Munich and set up his own factory. He also made detailed studies of nutrition, and came up with a recipe for the perfect army soup. Although his recipe would feed 1200 people, per person the Rumford soup consisted of: 1 ounce barley, 1 ounce peas, 3 ounces potatoes, 1/4 ounce salt, 1/2 ounce vinegar, and 14 ounces a water. The key was to put pieces of dried bread on the soup just before serving, because chewing, he was convinced, was instrumental in proper digestion. To provide raw ingredients, Thompson set up a garden in Munich, now called the English Garden, which also raised food for the poor. Thompson became a hero to the citizens of Munich, and he was rewarded in 1791 by being made a Count of the Holy Roman Empire. For a title, he took the name of Rumford, which was the old name of Concord, New Hampshire, which had run him out of town in 1774 with a threat of tar and feathers. Count Rumford seems to have had a puckish sense of humor.

Rumford appeared in two prints by the noted British caricaturist, James Gillray. In the famous print, "Scientific Researches!—New Discoveries in PNEUMATICKS!" (1802), where Gillray lampoons contemporary demonstrations with laughing gas, Rumford is merely an onlooker, standing at the door (third image). But in the second engraving, "Comforts of a Rumford Stove" (1800; fourth image), Rumford is clearly the center of attention. The Rumford stove, one of his many inventions, was the first efficient fireplace, and Gillray's cartoon is more of a grudging tribute than a rebuke.

There is an oil portrait of Rumford in the National Portrait Gallery, London (fifth image). Several statues have also been erected; we show the one in Munich (sixth image).

Dr. William B. Ashworth, Jr., Consultant for the History of Science, Linda Hall Library and Associate Professor, Department of History, University of Missouri-Kansas City. Comments or corrections are welcome; please direct to ashworthw@umkc.edu.