Scientist of the Day - Bruno Liljefors
Bruno Liljefors, a Swedish wildlife painter, was born May 14, 1860. In the late 19th century, wildlife painting emerged as a separate genre from natural history illustration, and Liljefors was one of pioneers of this new kind of art. He liked to paint animal predators, as we see with his wonderful 1886 portrait of a fox (first image above) and an 1891 painting of a pair of hooded crows (second image)
In 1893, the Swedish explorer and taxidermist Gustaf Kolthoff opened, in Stockholm, one of the world's first natural history museums that displayed stuffed animals in a reconstructed natural habitat.  One entered from a central staircase and was confronted by a series of surrounding tableaux – a rocky seashore, a forest, a tundra, even a cave.  To make these look real, Kolthoff commissioned Liljefors to paint life-like panoramas as backdrops.  We see three of the dioramas below.
Kolthoff called his museum the Biologiska Museet (Biological Museum).  It was one of the first museums in the world to use dioramas with mounted specimens and painted backdrops (although Lewis Dyche of the University of Kansas was in this same year opening a large diorama of American wildlife at the 1893 World's Columbian Exposition in Chicago).
The Biologiska Museet was open to the public until 2017, when it abruptly closed "for renovation."  As the museum is still closed, and its website is inactive, this does not bode well for the future.  If the museum has closed permanently, we hope the Liljefors panormas will somehow be preserved, as they are historic in the true sense of the word.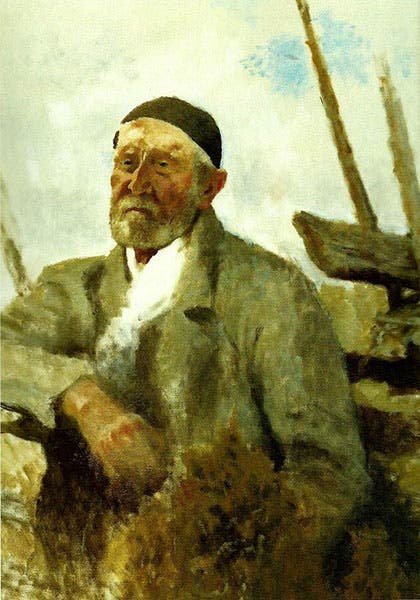 Fortunately, Liljefors' other paintings, many in the Gothenburg Museum of Art, seem safe enough, including a self-portrait (seventh image, above), in which he looks almost as saucy as his fox.
Dr. William B. Ashworth, Jr., Consultant for the History of Science, Linda Hall Library and Associate Professor emeritus, Department of History, University of Missouri-Kansas City. Comments or corrections are welcome; please direct to ashworthw@umkc.edu.