Scientist of the Day - Dmitrii Mendeleev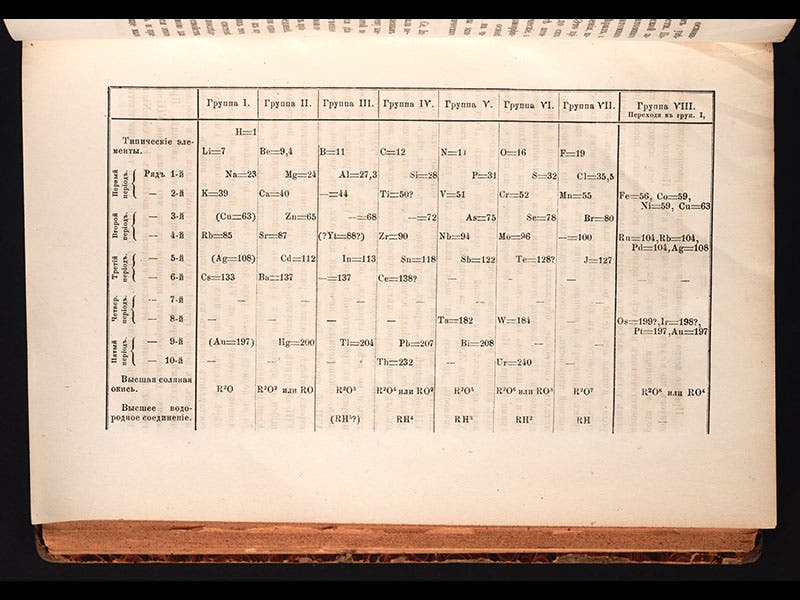 Dmitrii Mendeleev, a Russian chemist, died Feb. 2, 1907, at age 72. Mendeleev developed the first useful periodic table of the elements, publishing a preliminary version in 1869 (first image above) and an improved model in 1871 (third image). Other chemists had developed periodic tables of a sort in the 1860s; what made Mendeleev's table stand out was its predictive ability. There were a number of holes in his table of 1871; Mendeleev was confident enough to predict the existence of elements to fill those holes, and he even specified the properties of the missing elements, and their approximate atomic weights. Three of the gaps can be noted on the table (third image), opposite the numbers (atomic weights) 44, 68, and 72. When these three holes were indeed filled, with the discovery of gallium, scandium, and germanium, in 1875, 1879, and 1886 respectively, skeptical chemists began to take notice. When the rare gases (helium, neon, argon, etc.) were discovered near the end of the century, and they fit nicely into a new column of the table, Mendeleev's periodic table had secured its place as an essential chemical tool. Both the 1869 and 1871 periodic tables first appeared in the first volume of the Journal of the Russian Chemical Society [!in!]. This volume is kept in the vault of the History of Science Collection, and the images above of the two tables were taken from our copy.

There is a monument to Mendeleev at Slovak University of Technology in Bratislava, Slovakia that includes a novel sundial version of the periodic table (fourth image).

Dr. William B. Ashworth, Jr., Consultant for the History of Science, Linda Hall Library and Associate Professor, Department of History, University of Missouri-Kansas City. Comments or corrections are welcome; please direct to ashworthw@umkc.edu.