Scientist of the Day - Edward Hitchcock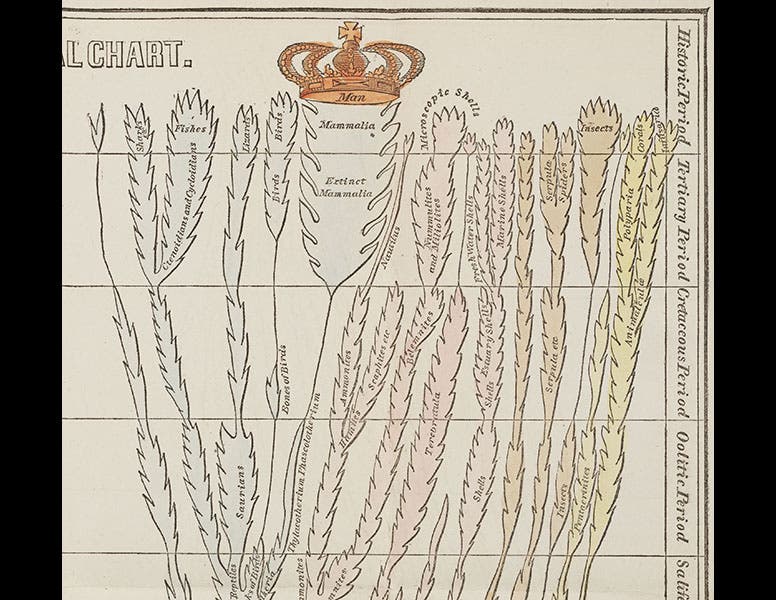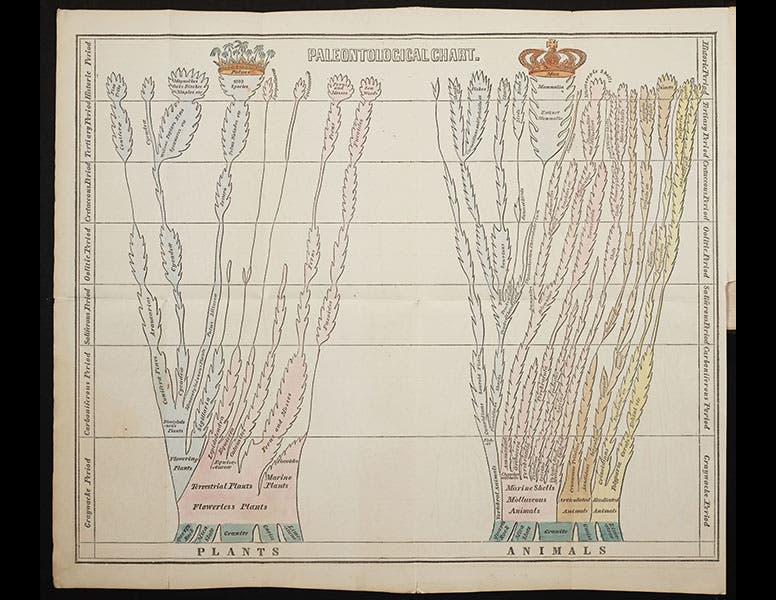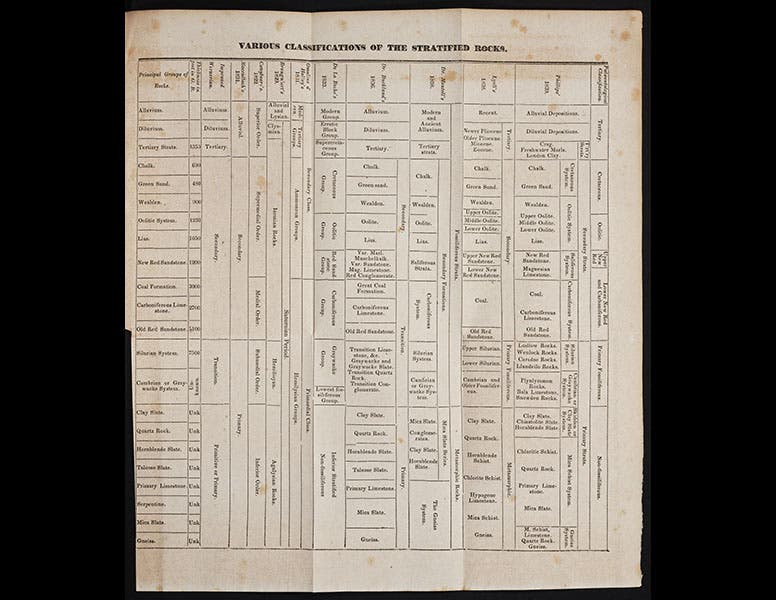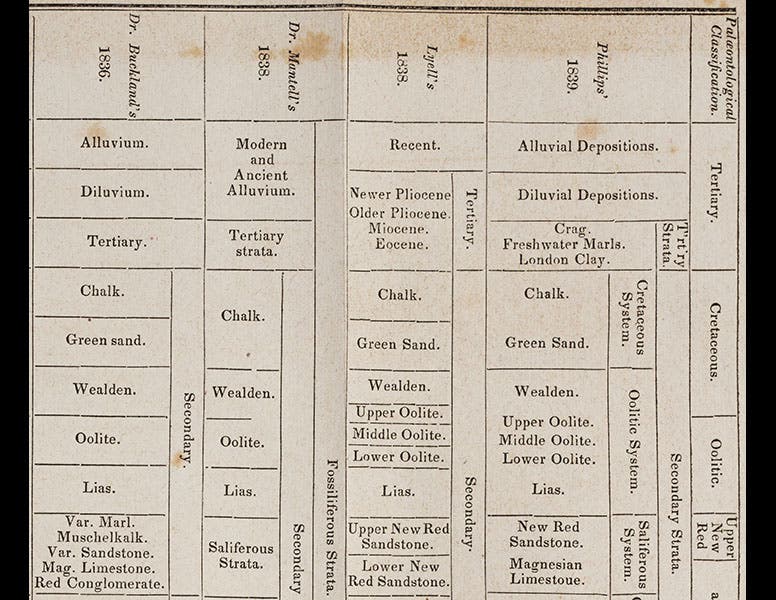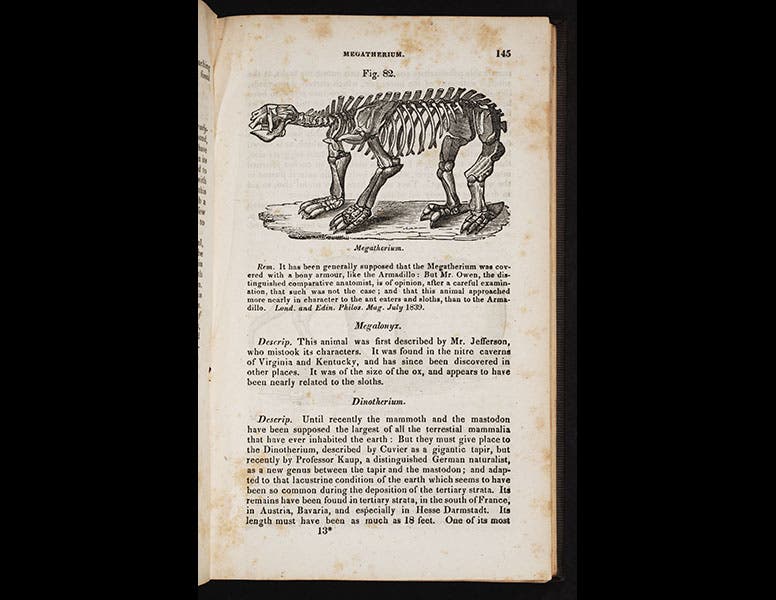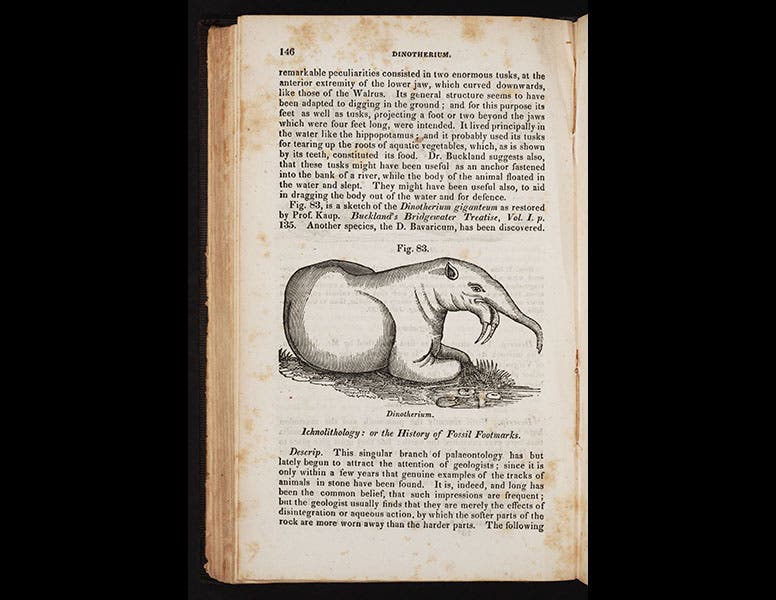 Edward Hitchcock, an American geologist, died Feb. 27, 1864, at the age of 70.  Hitchcock is best known for a collection of fossil footprints that he gathered in the Connecticut River valley and housed at Amherst, Mass.  Hitchcock thought they were the footprints of extinct birds, although we now know they were made by Triassic dinosaurs. We displayed his book on the subject, Ichnology of New England (1858) in our exhibiton, Paper Dinosaurs, where we displayed the charming frontispiece.

But we feature today a textbook that Hitchcock published in 1840, Elementary Geology.  For a textbook, especially an American one, it has some surprisingly innovative illustrations.  The most remarkable is a folding hand-colored frontispiece that provides what appear to be evolutionary trees for the plant and animal kingdoms.  Except, of course, these are not evolutionary trees, since they predate Darwin's Origin of Species by almost 30 years (second image).  Instead, they are historical trees, linking flora and fauna of the past with those of the present.  We show a detail of the top of the animal tree for our first image. Note that "Man" is literally the Crown of the Animals (as the Palms are for the Plants).

There is another folding chart that lays out the various naming schemes in use for stratified rocks (third image).  It displays, among others, the nomenclature systems of William Buckland, Gideon Mantell, and Charles Lyell, all of which were only a few years old at the time, and even includes Charles Lyell's new names for the Tertiary system--Pliocene, Miocene, and Eocene (detail, fourth image).  Hitchcock was accurately informed about the rapidly changing field of historical geology.

Other images, not so remarkable but still delightful, depict restorations of various prehistoric beasts, including the Megatherium (fifth image) and the Dinotherium (sixth image).  All in all, Elementary Geology was a superb up-to-date textbook.  The students at Amherst College were fortunate to have both the book and the man as their guides.

Dr. William B. Ashworth, Jr., Consultant for the History of Science, Linda Hall Library and Associate Professor, Department of History, University of Missouri-Kansas City. Comments or corrections are welcome; please direct to ashworthw@umkc.edu.