Scientist of the Day - Emma Darwin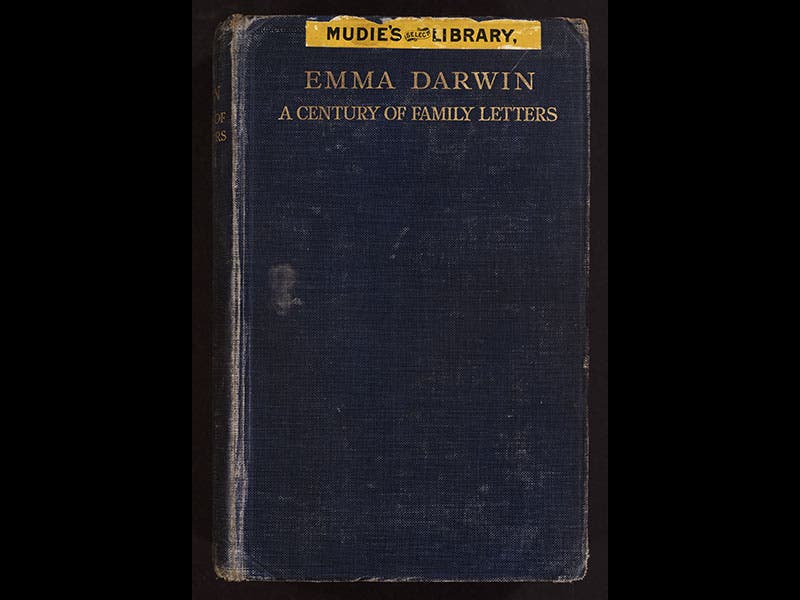 Emma Darwin, wife of Charles Darwin, was born May 2, 1808, about 9 months before her future husband. She was the grand-daughter of Josiah Wedgwood, founder of the Wedgwood Pottery firm. The Wedgwoods lived in Staffordshire, in an estate house known as Maer Hall, not that far from Shrewsbury, Shropshire, where the Darwin clan grew up. Darwin's mother was a Wedgwood, the sister of Josiah Wedgwood II, Emma's father, making Emma and Charles first cousins. They knew each other from childhood, and when Charles, two years back from the Beagle voyage, decided to marry in 1838, it was Emma he chose, and there appears to have been no reluctance on Emma's part. They were married on Jan. 29, 1839, in St. Peter's Church in Maer (second image), spent their first several years in London, and then moved to Down House in Kent (third image), where they would share their lives for forty more years, until Charles' death in 1882. Emma's wedding portrait is shown above (first image).

By all accounts, they were a happily married couple. Emma did not contribute to Charles' scientific work, but she raised a family of seven (three other children died young), and took care of Charles when he began suffering from an undiagnosed illness shortly after moving to Down House, an illness that lasted Charles's entire life. Emma would read to Charles regularly, and engage in a daily game of backgammon, and play the piano, which Charles found quite soothing. Emma was reasonably adept as a pianist--it is said that she took several lessons from Frédéric Chopin when she visited Paris as a young woman--and the Darwins owned a handsome Broadwood grand that is still preserved and on display at Down House (fourth image).

Emma, like all the Wedgwoods, was a devout Unitarian, and her religious beliefs and Charles' agnosticism might have produced some marital conflict, but that does not seem to have been the case. Charles did not dangle the implications of natural selection before Emma, and she refrained from trying to bring him back into the fold, although it is evident that she worried about his everlasting soul. It must have been some relief to her that Charles, to his posthumous surprise, was buried in Westminster Abbey.

Emma outlived Charles by 14 years, and her daughter, Henrietta Emma, published Emma's Life and Letters in 1915. Our copy (fifth image) still wears the yellow stickers of Mudie's Select Library, the foremost lending library of Victorian England. It was Mudie's purchase of 500 copies of The Origin of Species that helped make that work such a best-seller.

Dr. William B. Ashworth, Jr., Consultant for the History of Science, Linda Hall Library and Associate Professor, Department of History, University of Missouri-Kansas City. Comments or corrections are welcome; please direct to ashworthw@umkc.edu.