Scientist of the Day - Felix Mendelssohn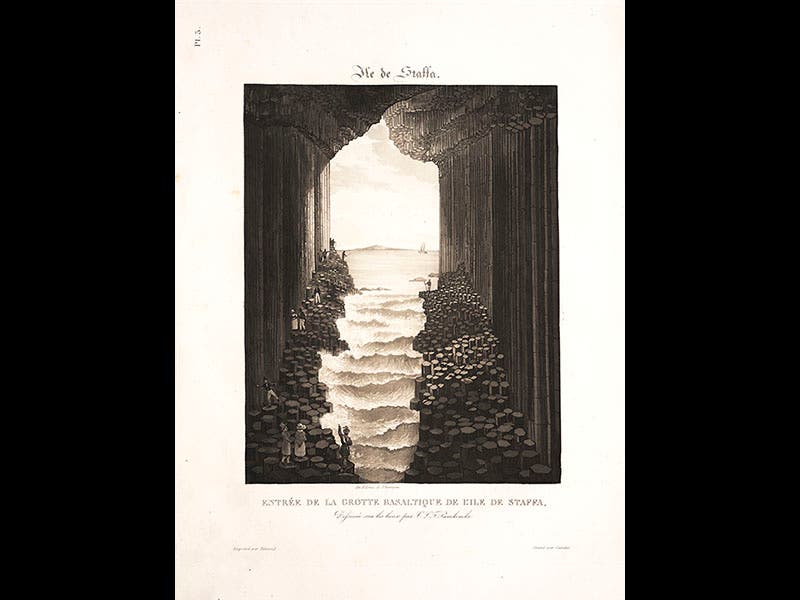 Felix Mendelssohn, the German composer, was born Feb. 3, 1809. In 1829, during a tour of Scotland, Mendelssohn visited Fingal's Cave on the island of Staffa, in the Hebrides, and was immediately inspired to write a short overture, The Hebrides. The cave had become quite a tourist attraction in the fifty years since its discovery by Sir Joseph Banks in 1772. The island of Staffa is composed entirely of columnar basalt, and the cave, hewn out by the sea, is therefore a cathedral of immense six-sided columns of rock, with basalt prisms hanging down from the ceiling like huge chandeliers. The cave was often pictured in geology books of Mendelssohn's time, since the origin of basalt was highly debated, some thinking that it had a volcanic origin, others that it was a sedimentary rock. We see above four illustrations—an engraving, two aquatints, and a lithograph—of Fingal's cave, from works in our History of Science Collection, dating from, in order, 1774, 1800, 1819, and 1831. The first one was featured in our 2004 exhibition, Vulcan's Forge and Fingal's Cave.

By Mendelssohn's own account, the theme of the ten-minute overture sprang into his mind's ear on the spot. He finished the overture in 1830, and revised it up to and even beyond the premiere on May 14, 1832. It is, by the way, an overture to nothing, or what they call a concert overture. There are many versions on YouTube; here is one that we are partial to.

Beautiful music; striking images; geological controversy—it is not often that a natural wonder inspires so many different muses.

The portrait of Mendelssohn above is a miniature by James Warren Childe, and shows the composer as a young man of 30. He was even younger, only 21 years old, when he wrote The Hebrides.

Dr. William B. Ashworth, Jr., Consultant for the History of Science, Linda Hall Library and Associate Professor, Department of History, University of Missouri-Kansas City. Comments or corrections are welcome; please direct to ashworthw@umkc.edu.