Scientist of the Day - Frederick Hope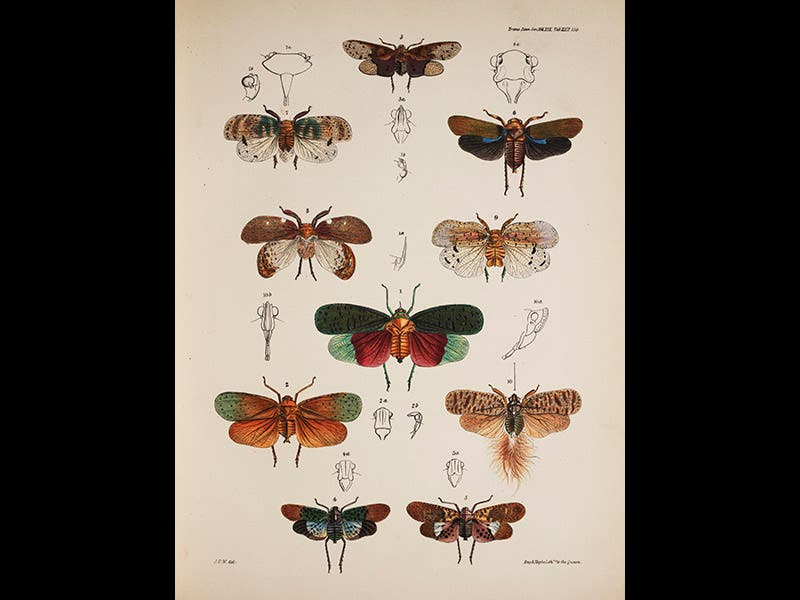 Frederick William Hope, an English entomologist and a man of wealth and privilege, was born Jan. 3, 1797. He earned degrees at Christ Church, Oxford and was appointed to a living in Shropshire, but because of poor health, he never preached at all, instead devoting his leisure time, which was all of his time, to collecting insects. But he was by most accounts very generous with his time and specimens; he encouraged young Charles Darwin, a fellow Shropshire lad, in his beetle collecting, and on two occasions, during Darwin's summer vacations from Cambridge, Hope and Darwin went on beetle-collecting trips to Wales. However, the primary beneficiary of Hope's generosity was John Obadiah Westwood, another entomologist five years older than Darwin. Hope and Westwood founded the Entomological Society of London in 1833, and in 1849, Hope gave his entire insect collection to Oxford, with the proviso that Westwood be named the curator, and he endowed the Hope Professorship of Zoology at Oxford, with the same proviso. The Hope Professorship is still going strong.

Darwin didn't have quite as good luck with Hope. When Darwin returned from the Beagle voyage in 1836, he portioned out his many specimens to experts--the birds to John Gould, the fossils to Richard Owen, etc. The beetles went to Hope. Hope published one paper on several ground beetles that he received from Darwin, but as far as we can determine, he published nothing else on Darwin's collection. It's not that he didn't publish--there are some 60 papers under his name in the literature--but he seems to have given his attention to the collections of naturalists other than Darwin. One of his papers (1841) discussed the beetles of Assam, northeast of India, and we show one plate above, entire (third image) and in detail (first image). The fourth image shows some "true bugs" from Silhet, just south of Assam, which is unusual for being a lithograph, an unaccustomed medium for entomologists in 1842.

There is a lithographed portrait of Hope in the National Portrait Gallery in London (second image).

Dr. William B. Ashworth, Jr., Consultant for the History of Science, Linda Hall Library and Associate Professor, Department of History, University of Missouri-Kansas City. Comments or corrections are welcome; please direct to ashworthw@umkc.edu.