Scientist of the Day - Henry Christy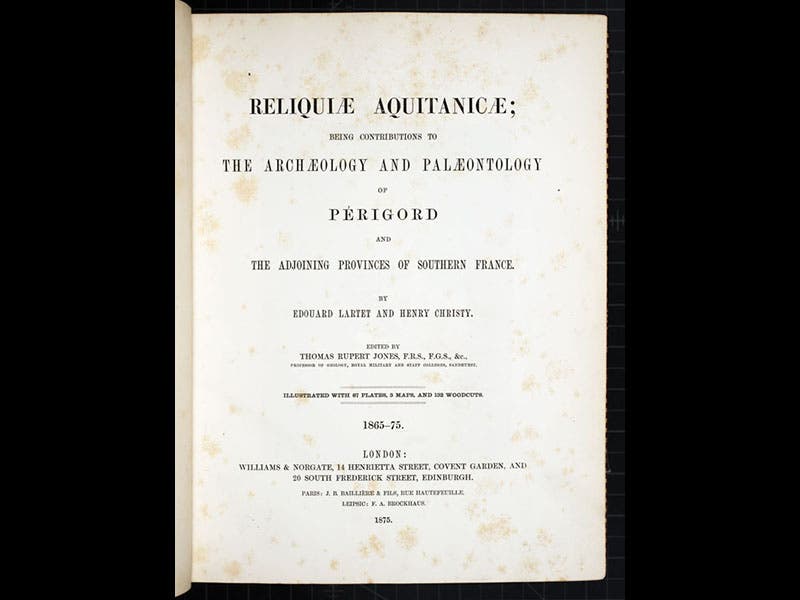 Henry Christy, an English banker and archaeologist, was born July 26, 1810. Christy developed an interest in human artifacts and antiquities when he saw displays at the Crystal Palace Exhibition in London in 1851, and he soon began travelling to Mexico, Scandinavia, and France, collecting in earnest. Around 1859, he teamed up with Edouard Lartet, a French archaeologist who was beginning to examine caves in the Dordogne region of southwestern France. Christy funded the excavations, and significant finds were soon forthcoming. By 1860, Lartet had found the first examples of Paleolithic carved art, in the form of engravings on reindeer femurs (second image). In 1864, Lartet turned up what is still one of the most beautiful examples of Paleolithic art ever found, an image of a wooly mammoth, carved on a piece of ivory, discovered at the cave of La Madeleine (first image).

Christy died in 1865, but funding from his estate kept Lartet and his excavations going. Lartet himself died in 1871, but the project now had momentum, and in 1875, Reliquiae Aquitaniae emerged from the press, one of the most attractive books on archaeology ever published (third image). It is Christy's most impressive legacy. We have a splendid copy in our History of Science Collection, and we displayed it in our 2012 exhibition, Blade and Bone: The Discovery of Human Antiquity, where the lovely La Madeleine mammoth graces the exhibition title page.

Christy never saw the celebrated Cro-Magnon specimen, discovered by Lartet's son in 1868, in time for its portrait to be included in the Reliquiae Aquitaniae (fourth image). Christy's own portrait bust is included as well, as a frontispiece and tribute (fifth image).

Dr. William B. Ashworth, Jr., Consultant for the History of Science, Linda Hall Library and Associate Professor, Department of History, University of Missouri-Kansas City. Comments or corrections are welcome; please direct to ashworthw@umkc.edu.