Scientist of the Day - James Dalrymple Stair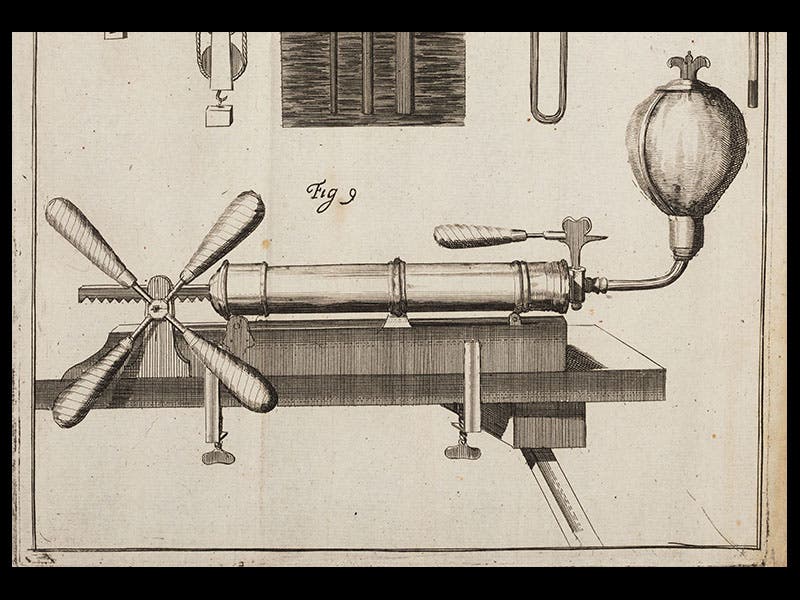 James Dalrymple, 1st Viscount of Stair, a Scottish judge, died Nov. 29, 1695, at age 76 (third image).  Stair was one of the most distinguished jurists in Scotland, publishing the Institutions of the Law of Scotland (1681) which is regarded as the foundation of modern Scots law.  But Stair was also a natural philosopher of sorts, and in 1686, while seeking political refuge in the Netherlands, he published Physiologia nova experimentalis, whose engraved frontispiece we see above (first image).  The continuation of the title is illuminating: …in qua generales notiones Aristotelis, Epicurus, & Cartesii supplementur: Errores deteguntur & emendantur, indicating that the theories of matter of Aristotle, Epicurus, and Descartes are being compared and supplemented, with any errors being pointed out and corrected by Stair.  The frontispiece shows us Aristotle and Epicurus at the top, Descartes at the left, and then, unprecedented in the annals of title-page illustration, a fourth individual, an experimentalist, with his back to the viewer.  I often use a detail of this figure when lecturing about Robert Hooke, of whom we have no portrait whatsoever, but it is clearly not Hooke who is being represented here, but rather Stair himself--the emendator--who was too modest to have his face included among this trio of intellectual giants.

The book is also notable for including the first illustration of a new kind of air pump, built by Johannes van Musschenbroek of Leiden, which was more efficient than the pumps being built in London and Paris (second image).

Fifteen years earlier, Stair had suffered a terrible personal tragedy. In 1669, his daughter Janet, forced into an arranged marriage, became deranged on her wedding night, stabbed her new husband, and died shortly thereafter herself. In 1819, Sir Walter Scott used this incident as the basis for his novel, The Bride of Lammermoor, and in 1835, Gaetano Donizetti's opera, derived from Scott's book, had its debut, as Lucia di Lammermoor.  Given that Stair had written a book about a trio of disputants, it is intriguing that near the end of Act 2 of Lucia, Donizetti gave us a sextet of conflicting personalities, fully as divisive as Stair's threesome--Lucia, her lover Edgardo, her handmaid Alisa, the bridegroom Arturo, Lucia's brother Enrico, and the chaplain Raimondo.  These six quarrelers, however, managed to produce the most heavenly sextet to be found in the entire operatic realm. Even if you are not an opera fan, listen to the sextet from Lucia for just one minute and see what you think. It is a shame that Descartes, Epicurus, and Aristotle (and Stair) couldn't have disagreed in such an agreeable way.

We include the last illustration—an anonymous, turn-of-the-20th-century parody of the Lucia sextet—simply because it is utterly charming and forms an appropriate counterpart to the illustration with which we began.

Dr. William B. Ashworth, Jr., Consultant for the History of Science, Linda Hall Library and Associate Professor, Department of History, University of Missouri-Kansas City. Comments or corrections are welcome; please direct to ashworthw@umkc.edu.