Scientist of the Day - John Evelyn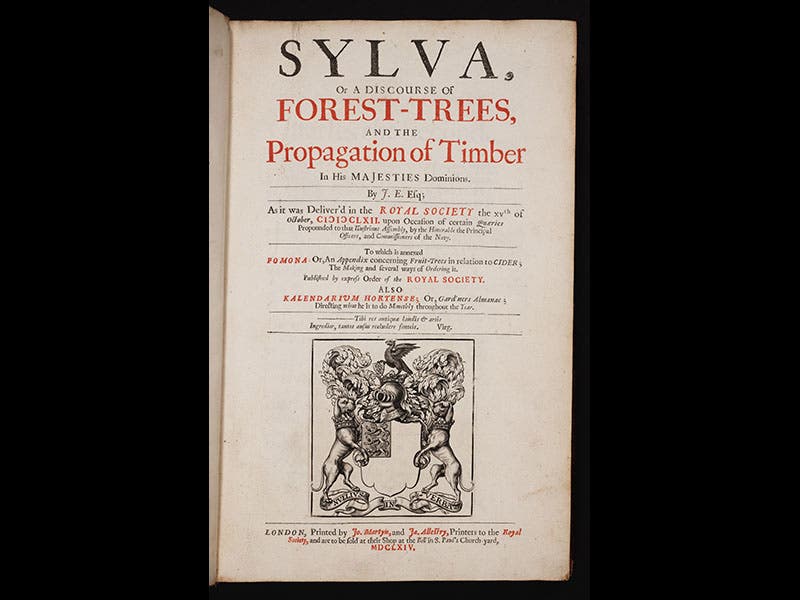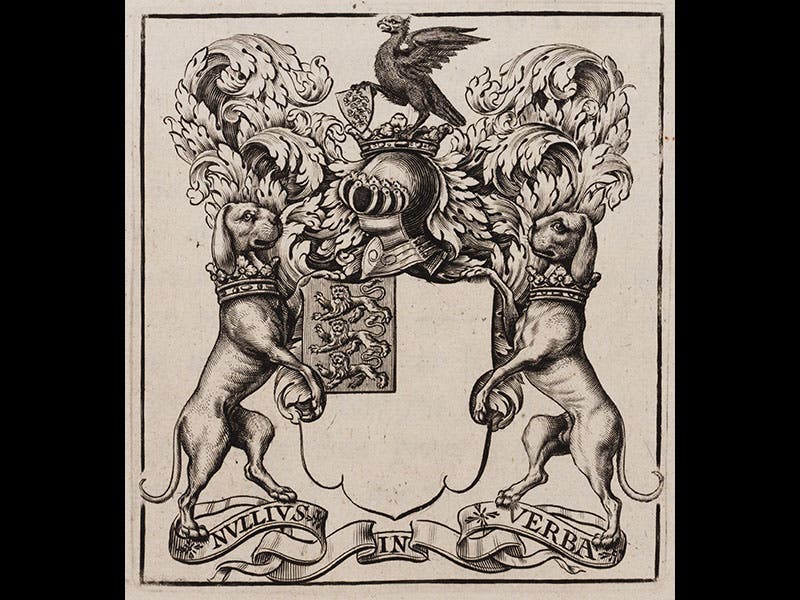 John Evelyn, an English gardener and writer, was born Oct. 31, 1620. In 1660, Evelyn joined a small group of natural philosophers to found the Royal Society of London, the oldest continuously-existing scientific society in the world. Evelyn had quite a reputation as a horticultural expert, so when King Charles II asked his Society what was to be done about the disappearance of England's forests, Evelyn wrote the first treatise on arboriculture, titled Sylva, or A Discourse of forest-trees, and the propagation of timber in his Majesties dominions. This handsome book was published in 1664 under the auspices of the Royal Society, the first book to appear under its aegis (second image). On the title page, we can see the newly adopted coat of arms of the Society, which was also designed by Evelyn (third image). In fact, there survive a half-a-dozen different crest designs, all the work of Evelyn, from which the actual crest was chosen. The motto of the Society, also proposed by Evelyn, is "Nullius in verba." This is often translated as "Nothing in words," but incorrectly so; the phrase is actually an abbreviation of a two-line verse by Horace, and more properly means "Swearing allegiance to no master". We have a fine copy of the Sylva in the History of Science Collection.  We also have an 18th-century edition (1786) that not only adds a portrait of Evelyn (fourth image), but illustrates his trees with beautiful engravings, such as this one of a Scotch fir (fifth image).

In 1665, Evelyn's friend John Beale was writing a book defending the Royal Society and its anti-Aristotelian stance, and he asked Evelyn to design a frontispiece for his book.  A man named Thomas Sprat had already been commissioned by the Society to write such a book, but he had been at it for several years without much progress.  Evelyn did design a frontispiece for Beale's book, which was projected to be a quarto-sized book.  As it happened, Sprat got to work and finished his own book by 1667, so Beale abandoned his own project and suggested that Evelyn 's frontispiece, which by that time had been engraved by Wenceslaus Hollar, be transferred to Sprat's book, and this suggestion was adopted.  So our copy of Sprat's History of the Royal Society contains Evelyn's frontispiece, even though it had to be folded at the edge to fit the octavo format of Sprat's volume (sixth image).

The Evelyn-designed frontispiece is one of the best-known engravings of the Scientific Revolution, since it demonstrates the respect of the Royal Society for Francis Bacon, the seated figure at the right, and because it portrays so many scientific instruments, demonstrating the experimental emphasis of the Society.  Earlier this year, Michael Hunter published an entire book about this engraving, The Image of Restoration Science: The Frontispiece to Thomas Sprat's History of the Royal Society (1667) (Routledge, 2017), where whatever further questions you might have are sure to be answered.

The oil portrait of Evelyn (first image), painted by Godfrey Kneller in 1687, is in the collection of the Royal Society of London.  Evelyn holds a copy of the first edition of his Sylva.

Dr. William B. Ashworth, Jr., Consultant for the History of Science, Linda Hall Library and Associate Professor, Department of History, University of Missouri-Kansas City. Comments or corrections are welcome; please direct to ashworthw@umkc.edu.