Scientist of the Day - John Godman
John Davidson Godman, an American physician and naturalist, was born Dec. 20, 1794.  Godman lived in Philadelphia and was associated with both the Peale Museum and the new Academy of Natural Sciences.  In the 1820s, there were two near-simultaneous efforts in Philadelphia to produce a survey of the mammals of the United States.  The first, by Richard Harlan, was published in 1825, and was called Fauna Americana.  It is not an impressive work to look at, since it lacks illustrations, but it is readable and occasionally amusingly puckish.  We wrote a post on Harlan in 2018.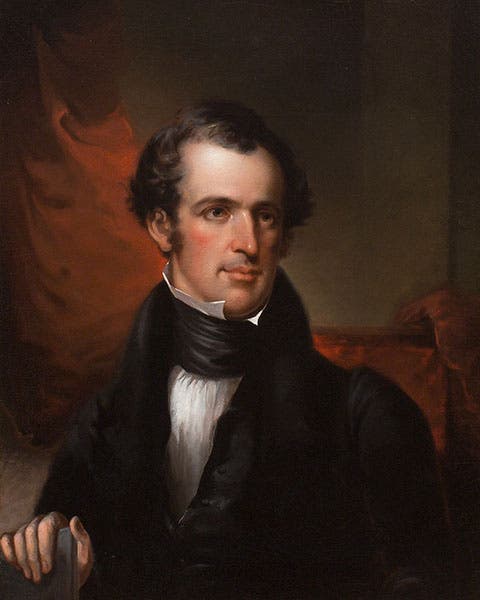 Portrait of John Godman, by Rembrandt Peale, date unknown to us, Library, Academy of Natural Sciences of Drexel University (photo supplied by Robert M. Peck)
Close on its heels came American Natural History, by Godman.  This is a much more impressive work at first sight, because it is illustrated with full-page engravings, and because it occupies three volumes, published between 1826-28.  The set we have in our Library is a mixed one, with second impressions of the first two volumes (1831) and a first edition of volume 3 (1828).  It is an odd kind of natural history, since it seems to have been written mostly in the Peale Museum, and illustrated with drawings of the specimens in the museum – a rather different approach from that of John James Audubon and sons, whose later Quadrupeds of North America was the result of extensive field study, and the illustrations of which depicted animals in natural wildlife settings, rather than in museum taxidermic poses.
The illustrations of Godman's American Natural History are nowhere near as stunning as the color lithographs in the Audubon work, but they are certainly serviceable, and occasionally excellent.  The drawings for the engravings were provided by a variety of Philadelphia artists.  A majority came from the pencil of Charles A. Lesueur, whom we profiled earlier this month.    The engraving of the mountain goat and pronghorn (third image), and the one of the musk ox (fifth image), were based on Lesueur drawings.  The book also includes quite a few engravings based on sketches by Alexander Rider, who drew the moose and reindeer (fourth image), and by William W. Wood, who provided the sea otter and the river otter (sixth image).   And there is one illustration supplied by "C. Burton," who is otherwise unknown to me, but whose "entanglement of opossums", the frontispiece to volume 2, is just delightful (seventh image).
Godman was highly critical of Harlan's book, which preceded his, accusing Harlan of plagiarizing much of his text.  I am not sure this is true, but it had the desired effect, as Godman is often cited as the first mammologist of the United States.  Harlan probably deserves more credit than he receives.
Perhaps as a result of spending so much time in the Peale Museum, Godman got to know the families of the various Peales, especially that of Rembrandt Peale, the second son of Charles Willson Peale.  Godman married Rembrandt's daughter Angelica in 1821, and he prevailed upon James Peale, the younger brother of Charles, to design the two title-page vignettes that graced the three volumes of American Natural History, one of which you can see in our first image.  Rembrandt himself painted a fine portrait of his son-in-law Godman, a painting that was recently acquired by the Academy of Natural Sciences (second image).
You will note from the title page (first image) that our copy of Godman's book came from the library of the Boston Society of Natural History, a presentation copy signed by C.T. Jackson, who was probably Charles T. Jackson, one of the prominent members of the Boston society, who notoriously claimed to have invented anesthesia, the telegraph, and digestive juices, well before the likes of Morton, Morse, and Beaumont.  Jackson probably never knew Godman personally, since Godman died prematurely, in 1830, at the young age of 35.
William B. Ashworth, Jr., Consultant for the History of Science, Linda Hall Library and Associate Professor emeritus, Department of History, University of Missouri-Kansas City. Comments or corrections are welcome; please direct to ashworthw@umkc.edu.