Scientist of the Day - John Gurche
John Gurche, an American paleo-artist, was born Oct. 30, 1951. Paleo-artists attempt to recreate prehistoric life in painting and/or sculptures. It is a very competitive field, so it is hard to emerge from the pack. Gurche managed to do so early on, with his ultra-realistic dinosaur paintings, such as our first image of an Iguanodon being attacked by two Deinonychus, or the artwork he did for the cover of Robert Bakker's book, Dinosaur Heresies (1986), depicting a Daspletosaurus and a Styracosaurus (second image).
He knew he had arrived when he was selected to design a set of four dinosaur stamps for the U.S. Postal Service in 1989 (third image). This set aroused some controversy at the time because of the Brontosaurus stamp.  Some insisted that the stamp should have been labeled Apatosaurus, the proper scientific name for that dinosaur. This led Stephen Jay Gould to respond with a column called "Bully for Brontosaurus," which eventually became the title of a book, in which he eloquently defended the use of the term for the general public.
Getting back to Gurche: after distinguishing himself as one of the premier dinosaur artists in the world, he changed his paleo-focus, and he now works on recreating prehistoric humans and their ancestors. When the National Museum of Natural History, part of the Smithsonian Institution in Washington, D.C., recently redid their Hall of Human Ancestors, they commissioned Gurche to create life-like sculptures of a variety of human and prehuman species; you can see Gurche at work in a slideshow on the Smithsonian website. Gurche also created five bronze statues for the Hall; we show here Homo heidelbergensis, the ancestor of both Homo sapiens and Neanderthal (fourth image).
Although Gurche lives and works in upstate New York, as the Artist in Residence at the Museum of the Earth affiliated with Cornell University, he is a Kansas City native.  In 2014, Gurche returned to the University of Kansas to receive a Distinguished Alumnus award, and he took the opportunity to give a well-received talk at our Library.  The last photo shows him on that occasion.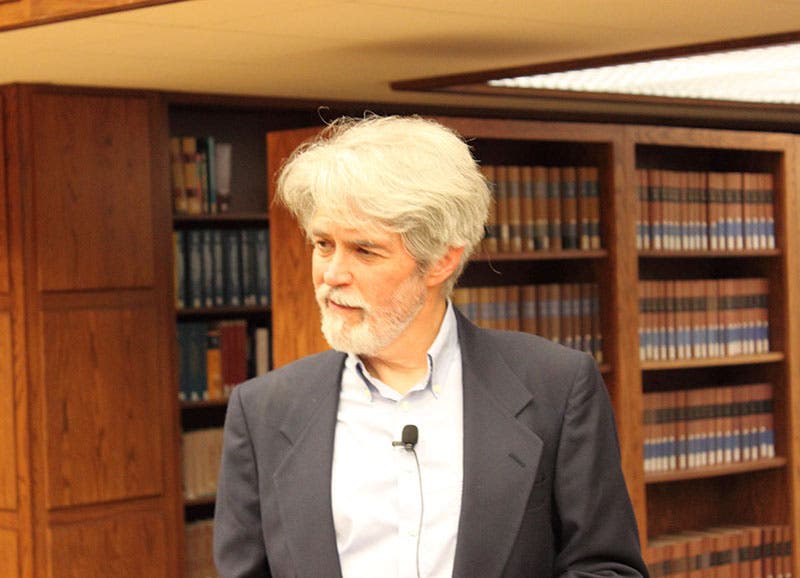 John Gurche at the Linda Hall Library, 2014 (Eric Ward)
Dr. William B. Ashworth, Jr., Consultant for the History of Science, Linda Hall Library and Associate Professor, Department of History, University of Missouri-Kansas City. Comments or corrections are welcome; please direct to ashworthw@umkc.edu.