Scientist of the Day - Joseph Clement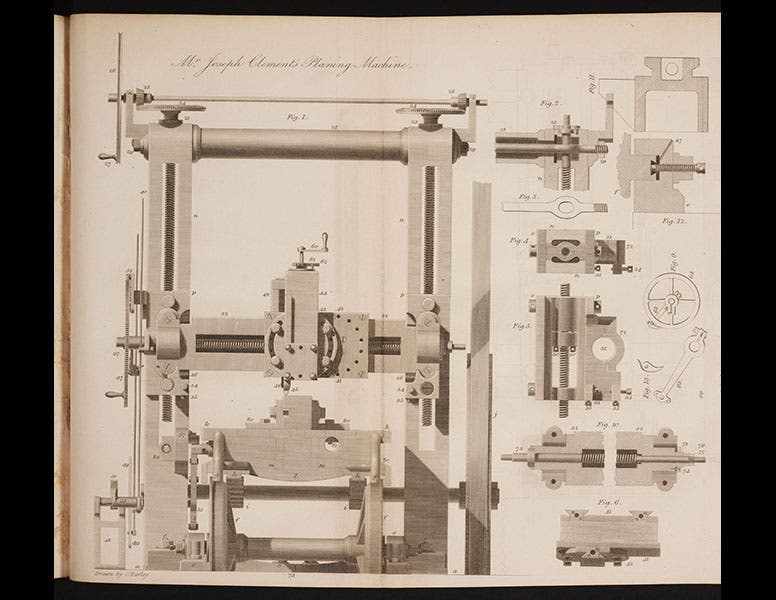 Joseph Clement, an English machinist, was born June 13, 1779.  Clement was one of a remarkable group of precision tool makers who developed their craft in the first few decades of the 19th century (second image).  Joseph Bramah was one of those, as well as Henry Maudslay, and Clement trained with both of them before setting out on his own in 1817.  He specialized in designing and building lathes, and he won several awards from the Society for the Encouragement of Arts, Manufactures and Commerce for improved precision lathes and chucks.  He was one of the first to lobby for standards in screw threads and pitch, so that machine screws from one workshop would work in machinery manufactured by other firms.  One of his screw-cutting lathes survives in the Science Museum in London (third image).  Clement was also renowned for a massive metal planing machine that he invented, which would prune metal from objects no matter their shape, and which could handle material of great size.  He published some of the details of the "Great Planer" in the Transactions of the Society for the Encouragement of Arts in 1833 (fourth image), a journal that we have in our serials collection.

Bcause of Clement's skill at precision manufacture, Charles Babbage sought him out in the early 1820s when he was designing a calculating machine, the first Difference Engine.  Clement worked on the project for a number of years and produced thousands of meticulously-made parts, some of which were assembled in 1833 into the working fragment of Difference Engine no. 1 that is still on display in the Science Museum in London (first, fifth, and sixth images).  The detail photos reveal just how good Clement was at his craft.  But Babbage and Clement had a falling out soon thereafter – Babbage thought Clement was enriching his workshop with tools made at Babbage's expense – and the two parted ways.  Difference Engine no. 1 was not completed in the lifetime of either man, although Babbage's son assembled a more complete model in the 1870s, from Clement's unused parts.

Dr. William B. Ashworth, Jr., Consultant for the History of Science, Linda Hall Library and Associate Professor, Department of History, University of Missouri-Kansas City. Comments or corrections are welcome; please direct to ashworthw@umkc.edu.