Scientist of the Day - Joseph Fourier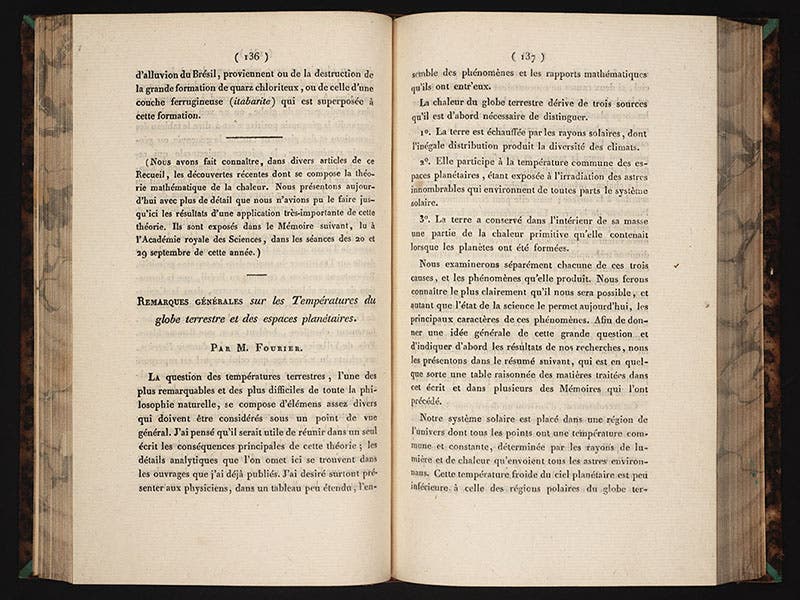 Jean-Baptiste Joseph Fourier, a French mathematician and physicist, was born Mar. 21, 1768. Fourier was one of the three principal scientific advisors to Napoleon when he outfitted his expedition to Egypt in 1798. Fourier, who taught at the new French engineering school, the Ecole Polytechnique, was responsible for selecting all the student engineers who did so much of the surveying in Egypt, and who discovered and drew most of the famous antiquities. We see above a portrait of the young Fourier, sketched while he was in Egypt (first image). Afterwards, Fourier became a favorite of Emperor Napoleon, so that when Napoleon fell in 1815, Fourier had a rough time with the new regime, even though it was apparent that he was one of the best mathematicians in France.

Fourier is best known for various contributions to mathematics, such as Fourier equations, and Fourier transforms, which we will not attempt to explicate here. But he did apply his mathematical skills to one aspect of natural science that we can all appreciate: he discovered the greenhouse effect. He calculated the temperature that the earth ought to have, given the energy it gets from the sun, and he came up with a figure of about 16 degrees below zero Celsius, whereas the earth's temperature actually averages about 16 degrees above, a 32-degree difference. He did some experiments with glass-covered containers, and he concluded that just as a glass shield will produce a warming effect in a vessel, so there must be something in the earth's atmosphere that reflects heat back to the earth. He published this conclusion in a paper in 1824, called "Remarques générales sur les températures du globe terrestre et des espaces planétaires," which appeared in the Annales de chemie et de physique. We have this journal in our serials collection (second image). Fourier did not understand the role of carbon dioxide and other "greenhouse gases" in producing the greenhouse effect, nor did he give it a name; that discovery, and the label, would come later in the century. But the history of our understanding of global warming starts with him.

There is a bust of Fourier in Grenoble, where he served Napoleon for some years after Napoleon became emperor (third image). And there survives a wonderful caricature of Fourier (fourth image). Fourier is the cherubic rotundity on the right; the maniacal face on the left is that of another great French mathematician of the time, Adrien-Marie Legendre.

Dr. William B. Ashworth, Jr., Consultant for the History of Science, Linda Hall Library and Associate Professor, Department of History, University of Missouri-Kansas City. Comments or corrections are welcome; please direct to ashworthw@umkc.edu.