Scientist of the Day - Leopold Gmelin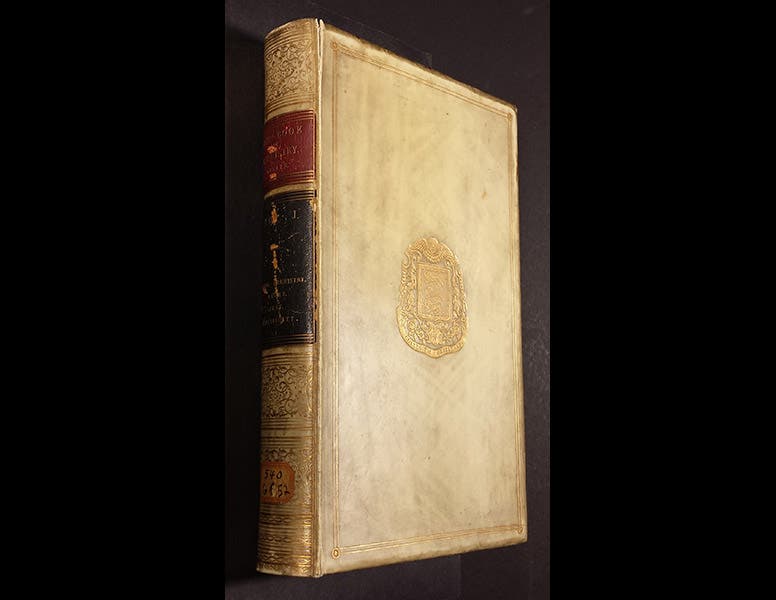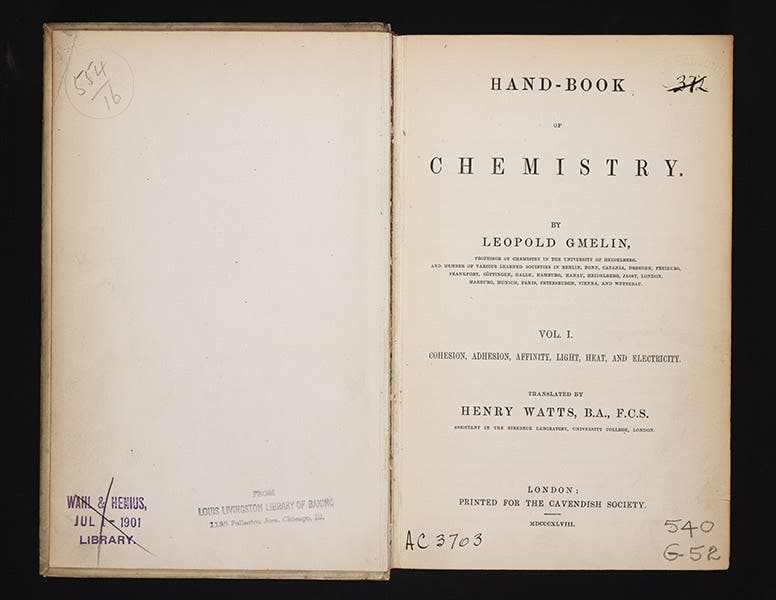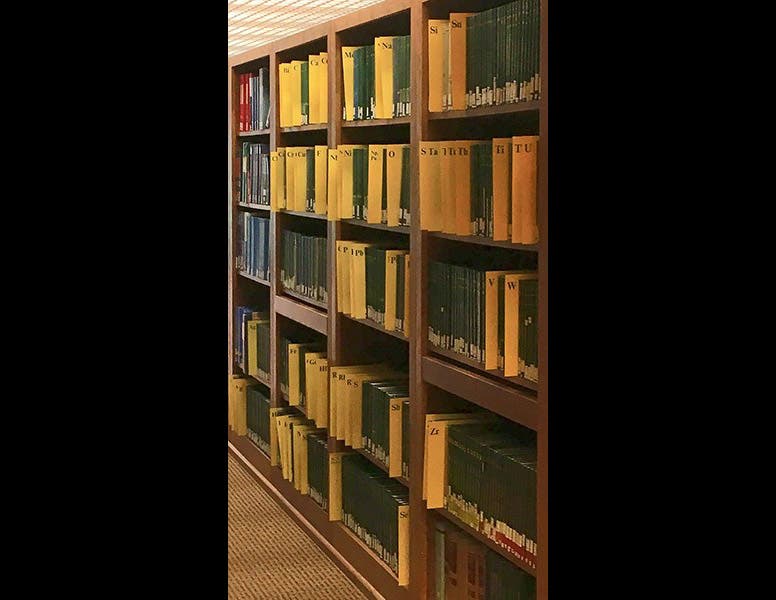 Leopold Gmelin, a German chemist, was born Aug. 2, 1788. Gmelin is known today primarily for a three-volume chemical handbook that he first published in 1817-19. Called Handbuch der theoretischen Chemie, it attempted to catalog all the chemical compounds that were known at the time and their properties. It apparently filled a real need for chemists, for it quickly went through multiple editions, each one larger than the previous one, as chemical knowledge expanded. We have in the History of Science Collection a beautiful set of the first English translation (from the 4th German edition), published in 1848-72 and complete in 19 volumes (second and third images). It was formerly the property of Oriel College Library, Oxford, and is bound in vellum, most usually for a 19th-century reference work. A bookplate tells us that the set spent some time in the library of the Wahl-Henius Institute of Fermentology in Chicago around the turn of the 20th century, and when Prohibition made it hard on brewers in 1921, the Institute closed and the library went to the American Institute of Baking, as another bookplate informs us. The AIB moved to Manhattan, Kansas, and when it decided to close its library, the books went elsewhere, most of them to Kansas State University, but the Gmelin came here.

By the 1850s (Gmelin died in 1853), Gmelin decided to limit his Handbuch to inorganic compounds, and it took the name Handbuch der anorganischen Chemie. The latest edition began publication in 1924 and the last print volume was issued in 1998. We have the complete printed edition, over 440 volumes, in the Library, where it occupies two full tiers of the reference stacks (fourth image). The set is organized by element, and the plastic yellow dividers separate Co (cobalt) from Cr (chromium) from Cs (cesium) from everything else. The current Gmelin handbook is now maintained on line--there will be no further printed editions--but the print set is regularly used by those who grew up with Gmelin as the basic inorganic reference work and know how to search it.

Because Gmelin dropped organic compounds from his handbook, the breach was filled by Friedrich Beilstein, who published the first edition of his Handbuch der organischen Chemie in 1881. Beilstein (as his handbook is often called) grew even more rapidly than Gmelin (as we call his handbook), and between them, Gmelin and Beilstein catalog every known compound in the inorganic and organic world. We might have more to say about Beilstein on his birthday, next Feb. 17.

The postage stamp honoring Gmelin (first image) was issued by Germany in 1988.

Dr. William B. Ashworth, Jr., Consultant for the History of Science, Linda Hall Library and Associate Professor, Department of History, University of Missouri-Kansas City. Comments or corrections are welcome; please direct to ashworthw@umkc.edu.