Scientist of the Day - Mary Watson Whitney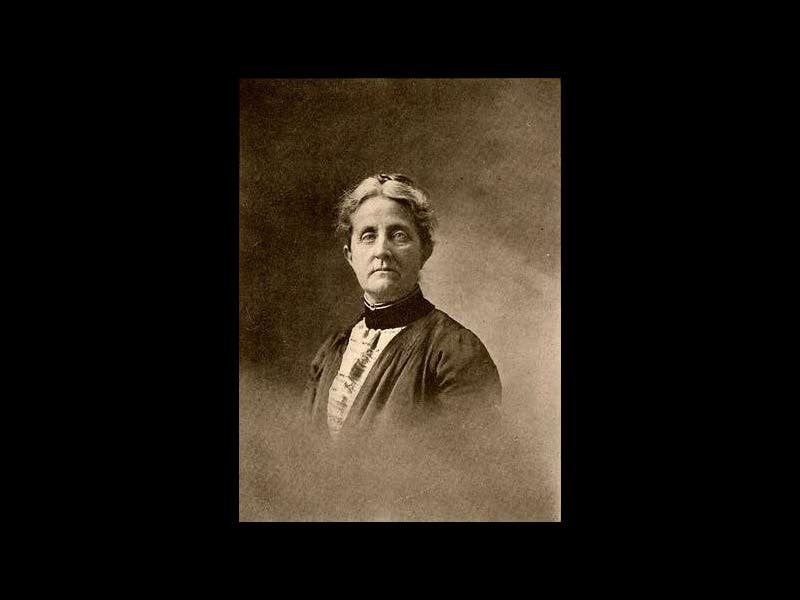 Mary Watson Whitney, an American astronomer, was born Sep. 11, 1847. Mary was very bright and well educated as a child, and she had the extreme good fortune to graduate from high school in 1863, when Matthew Vassar was in the process of founding Vassar College for women in Poughkeepsie, New York. Were it not for Vassar, Mary would have had no prospect for higher education in the sciences, which was her main interest. Matthew Vassar was so interested in the sciences, and especially in astronomy, that he had an Observatory constructed on campus even before any other buildings were erected, in the hopes of landing Maria Mitchell of Nantucket, the most famous woman astronomer of the time, as a professor of astronomy. He even underwrote the cost of an expensive lens, so that Henry Fitz of New York could construct a large 12-inch refractor, at that time the second largest telescope in the United States, second only to the Great Refractor at Harvard. So by 1865, Vassar College was up and running, and so was the Observatory, with Maria Mitchell at the helm. Mary Whitney was in the first Vassar class and became Maria's first student. A period photo shows the Observatory, with a wild game of field hockey underway on the grounds (first image). Mary became the leader of a group of six astronomy students who called themselves the Hexagon and who used to spend long nights at the telescope pursuing research programs. In this second period photo showing the hexagonal women, Mary is the seated woman in the center (second image).

When Mary graduated, there was no academic position for her--Maria Mitchell was the only professional woman astronomer in the country--so Mary pursued graduate studies at Harvard (unofficially, since Harvard refused admission to women). She ultimately received a master's degree from Vassar, went to Europe and studied there for some years, then returned to her home to teach high school. She was not too thrilled about being thus rewarded for her 10 years of higher education, but fortunately, after five years in the trenches, she was invited to return to Vassar as assistant to Mitchell, whose health was beginning to fail. A third photograph, probably from the 1880s, shows Maria (left) and Mary (right) in front of Vassar's Almost Great Refractor. When Maria passed away in 1889, Mary, her stellar pupil and now associate, was promoted to her position, becoming the second Professor of Astronomy at Vassar and the Second Director of what was now called the Maria Mitchell Observatory. She continued what Maria had started, making a place for women in the sciences. The department grew; faculty and students were encouraged to do original research and publish in professional journals: and as many as eight different courses in astronomy were being offered by 1900, including cutting-edge courses like astrophysics.

Mary Whitney retired in 1910. She had not discovered any new moons around Neptune or a supernova in Andromeda or measured the diameter of a star. But she had gone a long way toward providing real professional opportunities for American women in astronomy at a time when women with scientific interests had almost none. We do not have as many portraits of Mary as we should. But we do have one splendid one (fourth image).

If the first and the third photographs above look familiar, we included them in this space on Aug. 1, 2017, when we celebrated the birthday of Maria Mitchell. Today, it is Mary Watson Whitney's turn, which would have pleased Maria Mitchell no end.

Dr. William B. Ashworth, Jr., Consultant for the History of Science, Linda Hall Library and Associate Professor, Department of History, University of Missouri-Kansas City. Comments or corrections are welcome; please direct to ashworthw@umkc.edu.