Scientist of the Day - Oliver Hay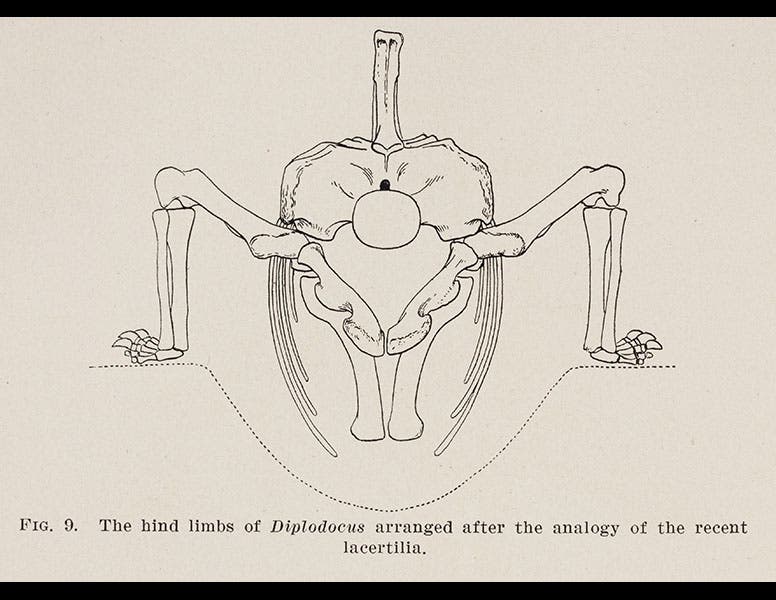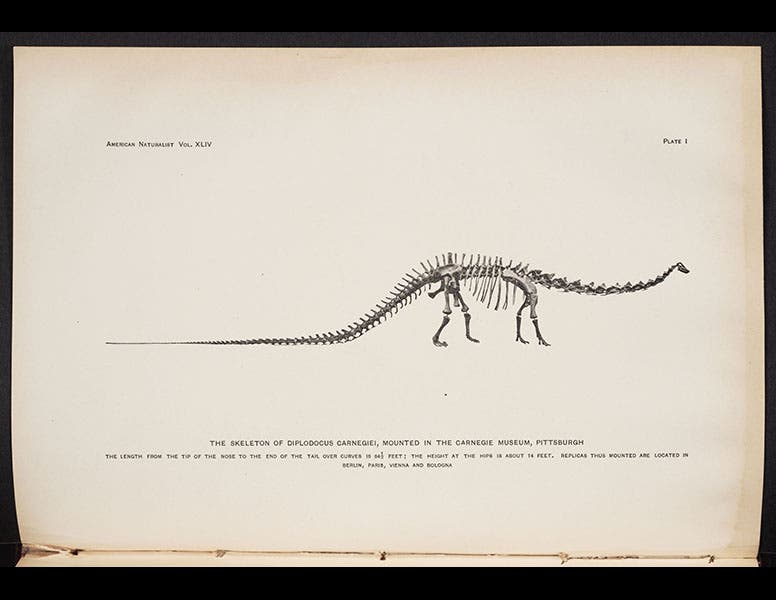 Oliver Perry Hay, an American zoologist, was born May 22, 1846.  Hay's specialty was fish, but in 1908, he took a foray into dinosaur studies, with a paper on the recently discovered Diplodocus carnegiei. Hay was apparently upset with the then-current reconstructions of sauropods, which showed them standing on straightened legs, like elephants, and even occasionally rearing up on their hind legs to reach elusive leaves on trees, as famously depicted by Charles Knight for a 1907 cover of Scientific American (second image). Hays believes that since dinosaurs were reptiles, then a crocodile was probably a better model for a dinosaur than an elephant.

So in 1908, Hay published a paper in which he argued that dinosaurs such as Diplodocus had their legs splayed out to the side, and in 1910, he published an expanded version of his paper, accompanied by a pencil sketch (by Mary Mason Mitchell) depicting four sprawling Diplodoci (first image). Hay found immediate support from a German, Gustav Tornier, who in 1909 offered an anatomical reconstruction of Diplodocus in its new splayed stance. These two papers were then grist for a blistering attack by William J. Holland, the Director of the Carnegie Museum of Natural History, who pointed out that, given the size of the Diplodocus rib cage,  nature would have had to provide lengthy troughs in the ground to accommodate the Diplodocus belly as it moved around (fourth image).  Holland preferred the traditional reconstruction of 1901 (fifth image), for which he himself had been largely responsible.

As far as we know, Hay never made another contribution to dinosaur studies, a wise decision on his part, it would appear. We featured Hay's paper, with its "Sprawling Diplodocus" landscape, in our 1996 exhibition, Paper Dinosaurs which also includes a detail showing the two dinosaurs in the background of the 1910 drawing.  There are also pages on Tornier's reconstruction and Holland's scathing rejoinder, as well as complete citations to all three papers.
Dr. William B. Ashworth, Jr., Consultant for the History of Science, Linda Hall Library and Associate Professor, Department of History, University of Missouri-Kansas City. Comments or corrections are welcome; please direct to ashworthw@umkc.edu.