Scientist of the Day - Otto Schoetensack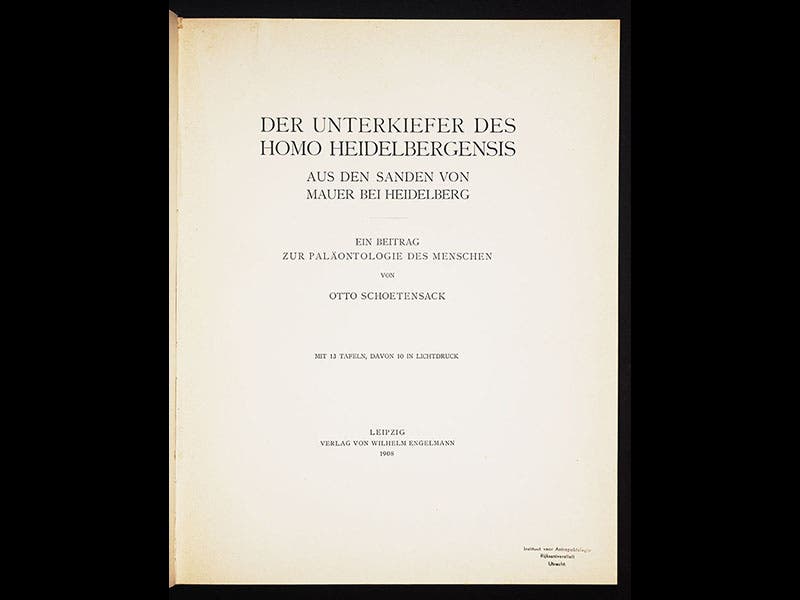 Otto Schoetensack, a German industrialist turned anthropologist, was born July 12, 1850. Schoetensack founded a chemical manufacturing plant in Mannheim and made himself a great deal of money, but he also grew quite sick from the chemicals. So he retired, went back to school, got a degree in human prehistory, and in 1903 was appointed to a professorship at the University of Heidelberg. For some years he monitored the sand pits and quarries in the environs of Heidelberg, teaching workmen what fossils look like and instructing them to bring him anything interesting.

On Oct. 21, 1907, one of his workmen dug a lower jaw out of a wall in Mauer Quarry and dutifully turned it over to Schoetensack, not doubt receiving a substantial reward for his find. The fossil, a mandible or lower jaw, was human-like but not human, being heavier, with more massive teeth. In 1908, Schoetensack published a thin quarto volume, Der Unterkiefer des Homo Heidelbergensis aus den Sanden von Mauer bei Heidelberg: Ein Beitrag zur Palaeontologie des Menschen (The Lower Jaw of Homo heidelbergensis Out of the Sands of Mauer near Heidelberg: An Essay in Human Paleontology) . As the title indicates, Schoetensack had decided that the jaw represented a new species, Homo heidelbergensis. He was right. Homo heidelbergensis is now considered ancestral to both Homo neanderthanensis and Homo sapiens.

In 2012, we mounted an exhibition at the Library titled Blade and Bone: The Discovery of Human Antiquity. At the time, we did not own Schoetensack's 1908 book, so we had to use later publications to introduce Heidelberg man and the Mauer Jaw. Last year, however, a copy of Der Unterkiefer des Homo Heidelbergensis was offered on the market, and we were fortunate to acquire it. Above we see the title page and three plates from the volume, showing side views of the Mauer jaw (third image), a top and bottom view (fourth image) and, most interestingly, a set of X-rays of the jaw (fifth image). To our knowledge, this is the first published X-ray view of any paleoanthropological object.

The original Mauer mandible is now in the Geological-Paleontological Institute of the University of Heidelberg (first image).

Dr. William B. Ashworth, Jr., Consultant for the History of Science, Linda Hall Library and Associate Professor, Department of History, University of Missouri-Kansas City. Comments or corrections are welcome; please direct to ashworthw@umkc.edu.