Scientist of the Day - William Bradford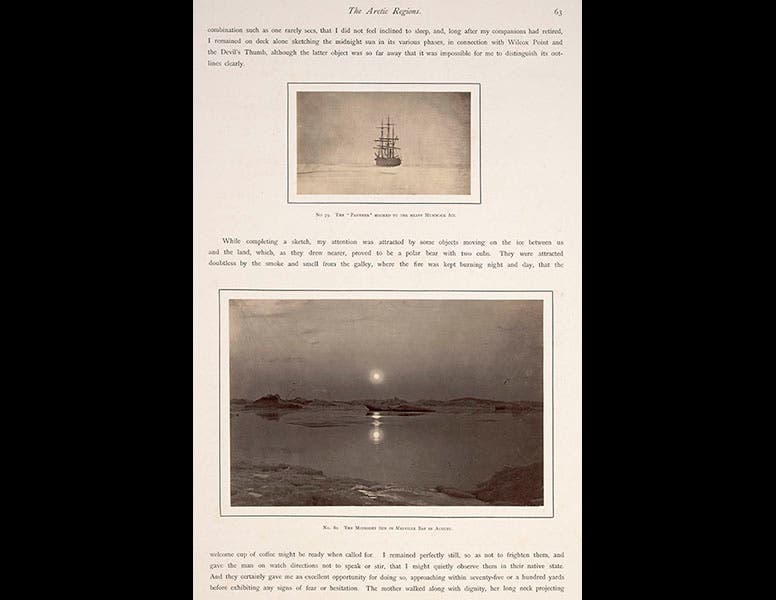 William Bradford, an American explorer and painter, was born Apr. 30, 1823.  He is known primarily for his paintings of the Far North, and for a book that is a milestone in the history of photography.  Bradford travelled to the Arctic on the 1860 voyage led by Isaac Israel Hayes, in search of the supposed North Polar Sea. After his return, Bradford began to paint Arctic landscapes, often involving whalers and sealers, of which we see a sample above. "Caught in the Ice Floes," painted around 1867, is in the New Bedford Whaling Museum in Massachusetts (first image).  "An Incident of Whaling," of unknown date, is in the Metropolitan Museum of Art (second image), as is "An Arctic Summer," 1871 (third image).

In 1869, Bradford organized his own voyage to the Arctic, bringing along two photographers, John Dunmore and George Critcherson.  The result, four years later, was a beautiful publication, The Arctic Regions (1873), notable primarly for the photographs of Dunmore and Critcherson, for which Bradford supplied the accompanying text.   The front cover of the book (fourth image) is a work of art all on its own.  We do not own a copy of The Arctic Regions, but there is one not a mile away, in the Nelson-Atkins Museum of Art, in their department of Photography.   The work contains over 140 albumen photographs.  We see above a sample page from this book, displaying two of the Dunmore/Critcherson photographs.

Dr. William B. Ashworth, Jr., Consultant for the History of Science, Linda Hall Library and Associate Professor, Department of History, University of Missouri-Kansas City. Comments or corrections are welcome; please direct to ashworthw@umkc.edu.