Scientist of the Day - William Clift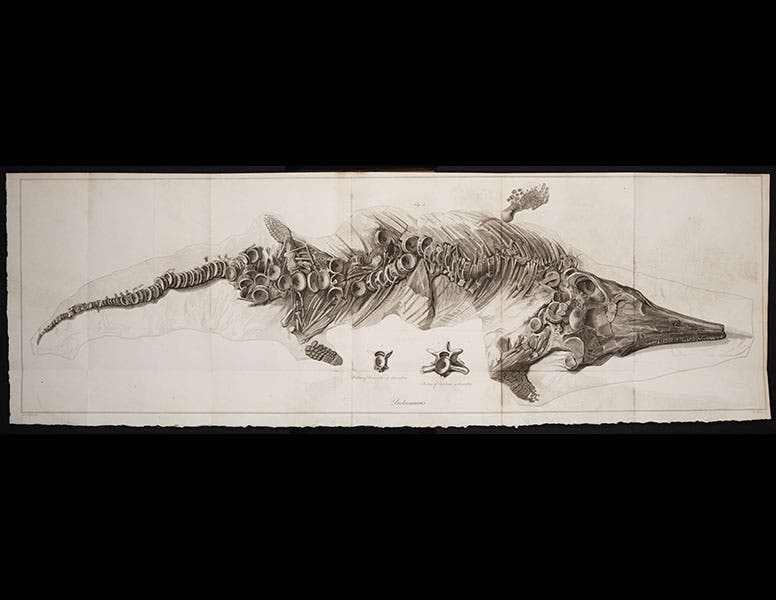 William Clift, an English naturalist, died June 20, 1849, at age 74. Clift was one of those British naturalists who never discovered anything truly significant himself, but who left his imprint on those who did. Clift came to work for the great collector and surgeon John Hunter in 1792.  When Hunter died suddenly in 1793, Clift protected the collection carefully until its sale to the Royal College of Surgeons could be arranged, and then he served as the Conservator of the Hunterian Museum (third image) for 43 more years.

When Edward Home in 1819 published a paper on Mary Anning's fossil Ichthyosaurus, it was Clift who drew the engraving for publication (fourth image). After William Buckland found some bones with teeth marks in Kirkdale cave in Yorkshire (fifth image) in 1822, Clift identified the teeth marks as those of hyenas, allowing Buckland to argue that Kirkdale cave had been an ancient hyena den. When Woodbine Parrish unearthed the fossil bones of a large vertebrate in Buenos Aires, it was Clift who recognized them as Megatherium bones in 1832 and arranged for their publication in 1835 (sixth image). And when Buckland published an article about another Anning find, the first British pterodactyl, again it was Clift who drew the specimen for publication (first image); we can see his signature in a detail (second image).

Finally, Clift educated the young Richard Owen, his assistant at the Hunterian Museum, in anatomy and paleontology, and when Owen was ready to make his own mark, Clift gave Owen the hand of his daughter, Caroline (seventh image); Richard and Caroline were married in 1835.   Owen succeeded Clift as curator of the Hunterian Museum in 1842.

Clift's own portrait is in the collection of the Royal Society of London (eighth image).

Dr. William B. Ashworth, Jr., Consultant for the History of Science, Linda Hall Library and Associate Professor, Department of History, University of Missouri-Kansas City. Comments or corrections are welcome; please direct to ashworthw@umkc.edu.