MetaCar wins Best in Show at 2022 Kansas City Invention Convention
Linda Hall Library has announced the student winners for its second annual Kansas City Invention Convention (KCIC) competition and awards ceremony.
Led by Linda Hall Library and sponsored by Kansas City National Security Campus, managed by Honeywell FM&T, KCIC is a year-long program that teaches problem-solving and creativity skills to students in grades 4-12 and provides educators with a project-based curriculum. KCIC provides access to resources, workshops and mentors who help students develop their ideas into real inventions that people can use to solve everyday problems. 
KCIC's showcase winners in the 11th and 12th grade categories were Tyler Lively and Jackson Brueckner for their invention, MetaCar (first place); Quinton Pfaff for his invention, NextDoorGig (second place); and Lucas Bullock for his invention, LUVI Hologram (third place). All high school winners are from the Blue Valley Center for Advanced Professional Studies (CAPS). The best-in-show invention, MetaCar, aims to integrate the car dealership with the VR world by using 3-D scanning technology to create a platform to view and purchase vehicles.  
The middle school (sixth, seventh and eighth grade category) winners were Olivia Adams and Dominic Cain for their invention, The Tranquility Tent, from Sunflower Elementary (first place); Lucille Herold for her invention, Fresh Fridge, and Samantha Meyer for her invention, Tac-It, both from John Paul II Catholic School (second and third places). For the fourth and fifth grade category, Will Hennenfent placed first for his invention, RSD1. Recipients of the Honeywell Scholarship were best-in-show winners Tyler Lively and Jackson Brueckner, and Kaidren Eberhart and Amelia Kenney for their invention, Shower Control, from Summit Trail Middle School.
The best-in-show winners, Tyler Lively and Jackson Brueckner, will represent Kansas City at the U.S. Nationals Competition, which will be held June 1  – June 3 at The Henry Ford in Dearborn, Michigan. There, students can win additional prizes, get a patent for their invention and win a chance to advance to the Global Invention Convention.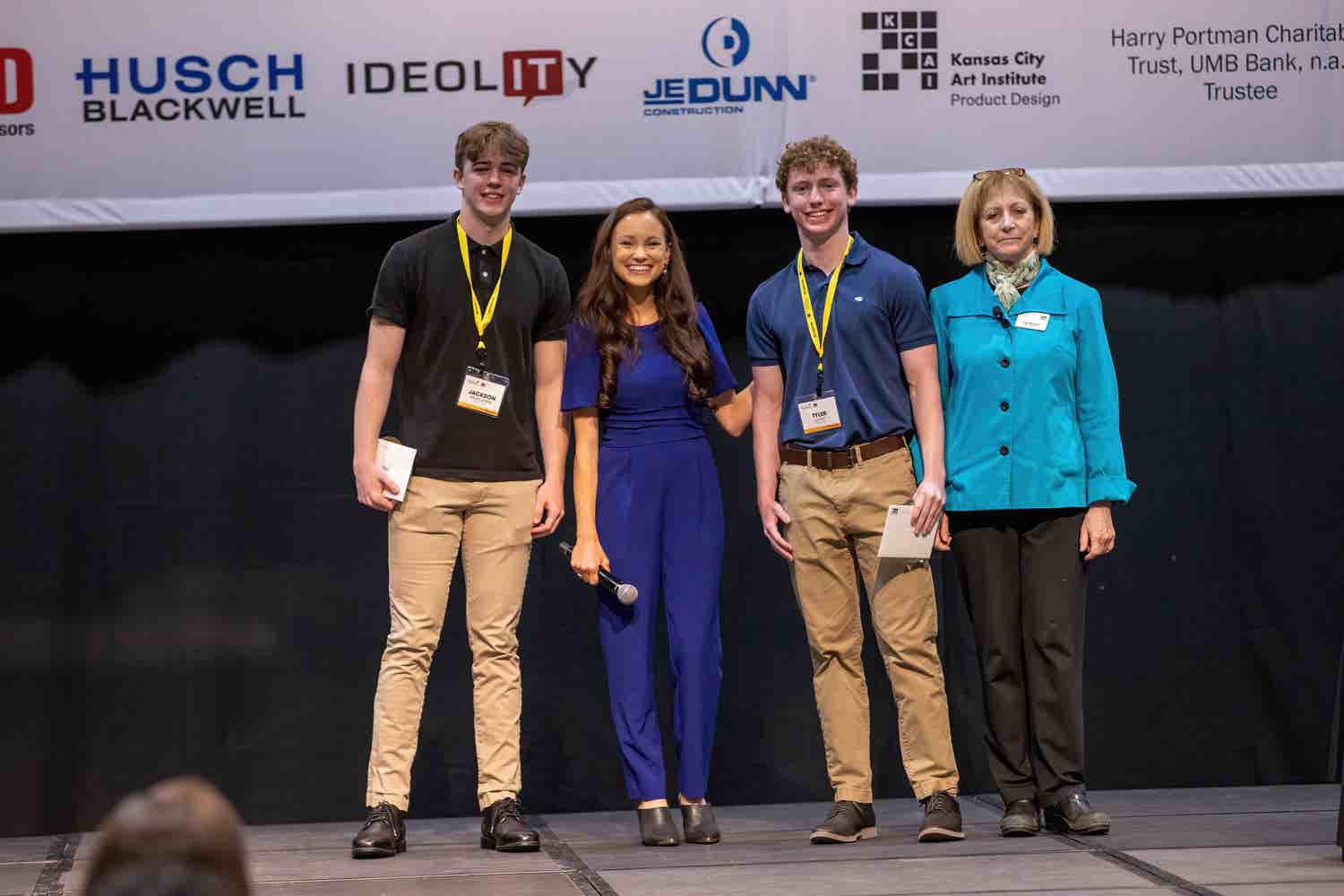 Jackson Brueckner, event host Emily Calandrelli, Tyler Lively, and Linda Hall Library president Lisa Browar at the 2022 Kansas City Invention Convention
"We couldn't be prouder of this year's exceptional talent, as well as the mentors who worked with the students throughout the year on their inventions," said Lisa Browar, Linda Hall Library's President. "This year's KCIC showcase saw an amazing turnout with a diverse range of inventions. The students' creativity promises a bright future for the next generation of innovators."