Scientist of the Day - Bruno Bozzetto
Bruno Bozzetto, an Italian film animator, was born Mar. 3, 1938. In 1976, Bozzetto released a film called Allegro non troppo. It was, in essence, the cynic's response to Disney's Fantasia (1940). Like Fantasia, Allegro non troppo (which means "Not so Fast") consists of short animation pieces set to classical music compositions, such as Stravinsky's Firebird, Dvorak's Slavonic Dances, and Debussy's Prelude to the Afternoon of a Faun. Unlike Fantasia, the skits are sardonic and biting. For example, while Slavonic Dance no. 7 fills your ears, a cave-dweller builds a hut, only to find that all his neighbors immediately copy him, so he builds a better house, and they copy him again. Indeed, no matter what he does, his every action or feat is immediately aped by the rest of his community. Finally, he contrives to find a way to extract revenge, but in the end, the tables are turned, and our innovator becomes the butt of the joke. The really clever thing about Allegro non troppo is the way the animation fits the music so perfectly; if you know the 7th Slavonic dance, you might recall that it has quiet passages, when only an oboe and bassoon are playing, followed by the same motif played by a much larger ensemble of winds and strings; our lone genius builds to the oboe and bassoon, while his neighbors raise their roofs to the strings. You have to see it, of course, to get the point, but for that, you will just have to wait a paragraph.
And that is because our animation of choice from Allegro non troppo this morning is not the one set to Dvorak, but the piece designed for Ravel's Bolero, and it is the whole reason why we can talk about Bozzetto in a scientific anniversary series, because its theme is evolution. The animation starts, as a snare drum rat-a-tats and a flute plays the familiar Bolero theme, with a spaceship landing, flinging an empty Coke bottle out the door, and departing for other worlds (third image, below). Gunk from the bottle climbs out onto the landscape, and the slime gradually morphs into more and more complex forms. As the music builds (it is Bolero, after all), the entire panorama of evolution plays out before us – birds learning to fly, lizards preying on one another, dinosaurs marching across the landscape in perfect rhythm (first image), mammals battling ice ages. The only anomaly is an ape, who pops up all the way through and behaves as if he were outside the evolutionary process. At the climax, the procession is brought up short by the rise of industrial civilization. And the mischievous ape? Well, you will just have to watch for yourself. There is a version of just the Bolero sequence on YouTube, and it is a bit darker than my DVD, but you can still get the point and enjoy it thoroughly. Just remember to be patient; even rapid-fire evolution cannot be squeezed into a sound bite, and Bolero at full length is 16 minutes long. Bozzetto's version is a little over 13 minutes.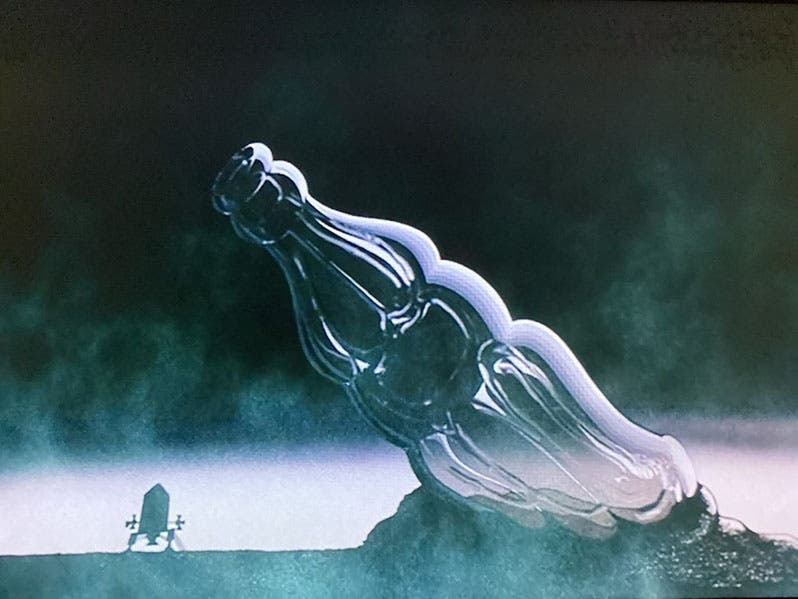 Opening scene, a Coke bottle on an alien planet getting evolution started, still from Allegro non tropo, by Bruno Bozzetto, 1976; issued on DVD by Home Vision Entertainment, 2003 (homevision.com)
And if you would like to see what happens to our cave-dweller and his crowd of imitators, you need to have the entire film available, which you can view here, and then move to the 22:30 mark, where Bozzetto's version of Dvorak's Slavonic Dance no. 7 begins. It runs only a little over three minutes. You might notice, watching the entire film, that there are extended live-action sequences between the animations, which are quite amusing, but outside the pale today.  The Bolero sequence, if you want to watch it again, starts at 30:20. And as long as you have the full film in front of you, you might as well advance to the 47:40 mark for the animation that accompanies Sibelius's Valse triste. A little over 6 minutes long, It is probably the finest sequence in the film, but it is very sad, as a cat in a burned-out tenement recalls the old days when the building was full of life and love, and then has to confront the depressing present, and an even bleaker future. Please keep a box of tissue nearby.  Valse triste indeed.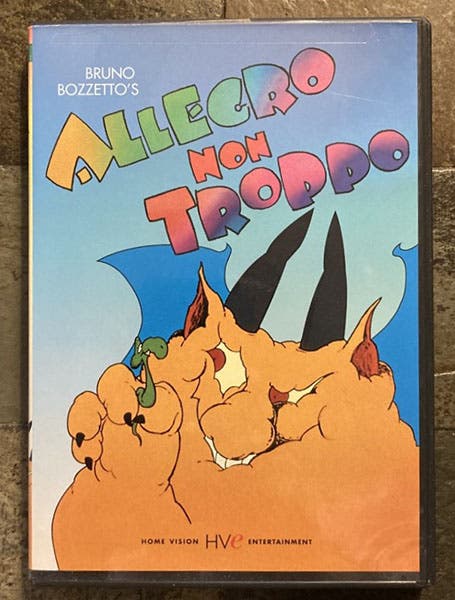 Cover art, DVD of Allegro non tropo, by Bruno Bozzetto, 1976, issued in 2003 by Home Vision Entertainment (photo by the author)
Bruno Bozzetto is still very much with us, continuing to create animated sequences from his home in Bergamo, northeast of Milan.  Happy 84th birthday, Mr. Bozzetto, from your many admirers worldwide!  I hope we will be adding a few to that number today.
Dr. William B. Ashworth, Jr., Consultant for the History of Science, Linda Hall Library and Associate Professor emeritus, Department of History, University of Missouri-Kansas City. Comments or corrections are welcome; please direct to ashworthw@umkc.edu.