Scientist of the Day - Dorothea Klumpke Roberts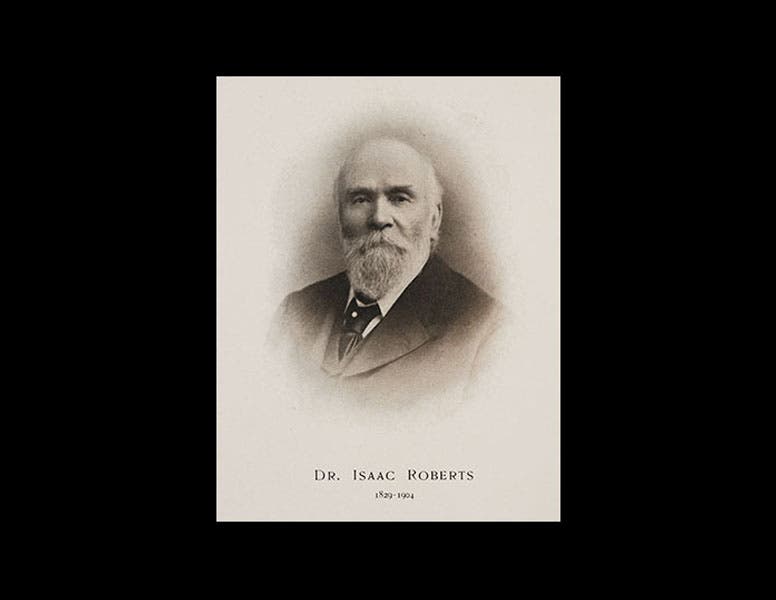 Dorothea Klumpke Roberts (second image) was the first woman to earn an advanced degree in astronomy—a feat she accomplished in 1893, at the University of Paris, with a dissertation about the rings of Saturn. Born Aug. 9, 1861 in San Francisco, where her father had been lured by the Gold Rush, Dorothea was the third of five Klumpke daughters, all of whom were educated in Europe and pursued distinguished careers.

She began working at the Paris Observatory in 1887, just as the international all-sky charting project known as the Carte du Ciel was getting under way, and she contributed mightily to that effort (first image; Dorothea is the central figure, at the instrument). Her prowess in measuring star positions on the Carte photographic plates (third image) helped her secure a coveted Observatory position in 1891 as director of its Bureau of Measurements.

She celebrated her thirty-fifth birthday in Norway, where she had traveled to view the total solar eclipse of Aug. 9, 1896. Though clouded out of the spectacle, she met fellow eclipse chaser and astrophotography pioneer Isaac Roberts (fourth image). At 67, the Welsh widower was nearly twice her age, but their shared interests drew them together and they struck up an amiable correspondence.

Hopes for a brilliant Leonid meteor shower in November of 1899 prompted French astronomers to propose observing the display at altitude, from a hot-air balloon. Jules Janssen, director of the Meudon Observatory, chose Dorothea Klumpke to make the ascent. Le Centaure (fifth image) lifted off from Paris about an hour past midnight, and traveled northward till dawn, when the female astronomer, the pilot, and a secretary landed near the Normandy coast and shared their picnic hamper of cold chicken and champagne with the local villagers. The meteor shower fizzled (only eleven Leonids were seen), but Dorothea reported her adventure in a popular account for The Century Magazine in 1900. "It seemed that, in the absence of earth's jar and grind," she wrote, "the eye was clearer, the heart more awake, and the soul filled to its brim with divine, with reverent adoration."

In 1901, after five years of exchanging letters, Dorothea Klumpke and Isaac Roberts were married. She moved to Sussex to assist him. Together they planned to photograph and analyze all 52 of the nebulous areas identified by William Herschel. When their partnership ended prematurely with Isaac's death in 1904, Dorothea saw the project through to completion. In 1929, the centennial of her husband's birth, she published Isaac Roberts' Atlas of 52 Regions, a Guide to William Herschel's Fields of Nebulosity. In 1932, she followed up with a supplement containing enlargements of the photos, and was rewarded with the Hélène-Paul Helbronner Prize from the French Academy of Sciences. Two years later, she was elected a Chevalier de la Legion d'Honneur, France's highest level of recognition.

In her later years (sixth image), she moved back to San Francisco. She endowed several student awards at the Paris Observatory and the University of California, and also established a Klumpke-Roberts Lecture Fund through the Astronomical Society of the Pacific. The fund later morphed into the society's Klumpke-Roberts Prize, given to writers who popularize astronomy—much as Klumpke Roberts herself had done with her balloon account.

She died Oct. 5, 1942, after a long illness, and is buried in her native city. As a fitting memorial to someone who had plotted the orbits of asteroids, two such bodies are named for her, 339 Dorothea and 1040 Klumpkea.

Dava Sobel, author of Longitude, Galileo's Daughter, and The Glass Universe, hopes to write a biography of Dorothea Klumpke Roberts. Anyone with information about the Klumpke family is asked, please, to contact her through her website, http://www.davasobel.com.