Scientist of the Day - Marcelino Sanz de Sautuola
Don Marcelino Sanz de Sautuola, a Spanish jurist and amateur archaeologist, died June 2, 1888, at the age of about 57. In 1879, Don Marcelino was examining a cave on his property in Altamira, Cantabria, in northern Spain, when his daughter Maria crawled into a side cave, happened to look up, and came rapidly back out, exclaiming: "Mira Papa! Bueyes pintados!" There were indeed painted bulls on the ceiling of the Altamira cave, the first examples of Paleolithic cave painting ever discovered.
Sautuola called in an archeological professional, who agreed that the paintings were prehistoric, and in 1880, Sautuola presented a paper to a Congress on Prehistory in Lisbon, describing the cave paintings and declaring them the work of primitive humans. The paper was published as Breves apuntes sobre algunos objetos prehistóricos de la provincia de Santander (Brief notes on some prehistoric objects from the province of Santander), by the Real Academia de la Historia.  We present here the title page and an illustration of the ceiling from a facsimile of the 1880 published by the Museo de Altamira.   Instead of being congratulated, Sautuola was ridiculed by the audience, who could not even be bothered to go look at the cave first-hand.  Sautuola was even accused of forging the paintings himself. He never could convince any other archaeologists to come visit his cave, and he died a broken man, his integrity in question, and his great discovery unacknowledged.
Twenty-two years later, one of those present in 1880, the archaeologist Emile Cartailhac, did an about face, and in a published mea culpa in the journal l'Anthropologie in 1902, he admitted that he had been dead wrong to dismiss the Altamira paintings. In his revised opinion, they were indeed genuine and Paleolithic.  In 1906, Cartailhac and the Abbé Breuil published a gorgeous book, La caverne d'Altamira, in which the cave paintings were presented to the public for the first time, in glorious color, based on copies painted by Breuil.  Sadly, we do not have this book in our collections, as it is said to be out of scope for a science and engineering library.  Fortunately, within 5 years, other publications began to reproduce Breuil's color paintings, and we have several of those, from which we have drawn our historical images for this occasion.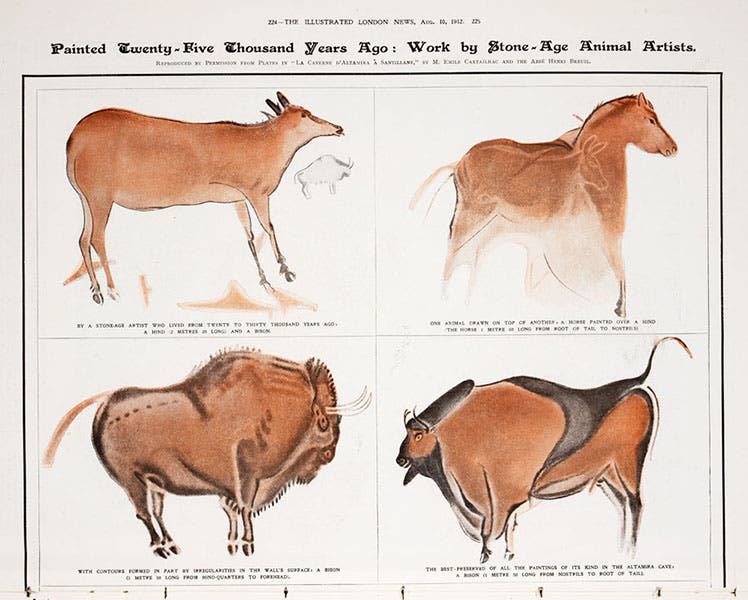 Four paintings from the Altamira cave ceiling, copied by Abbé Breuil, Illustrated London News, Aug. 10, 1912 (author's collection)
In our 2012 exhibition, Blade and Bone: The Discovery of Human Antiquity, we displayed all these publications in one large flat case, which made for a dramatic display. You can come close to recreating that experience by going to the web version of our exhibition, starting at this point (item 41), and then clicking "next" twice more.
The Altamira cave was open to the public for many years, but it had to be closed in 1977, as human presence was introducing CO2, molds and fungus into the environment. The cave was reopened briefly in 1982, and then closed again, permanently. It remains closed to the present day.  Altamira became part of a World Heritage site in 1985.
Around the year 2000, authorities decided to create a replica cave for visitors.  It opened in 2001.  There is also a replica Altamira cave in Madrid, and one in Munich.  Here is a link to a photo of the Altamira replica taken at its opening.  It is nice to have these, I suppose, since the original is off-limits, but it is not quite the same thing. I am not sure I would want to stand in line for hours at the Louvre to see a copy of the Mona Lisa. Unless I did just that, and nobody told me.
And because it is beautiful, we include a recent photograph of a charging bison or bull, one of the most acclaimed figures on the Altamira cave ceiling (eighth image).
There is a leisurely 6-minute video, posted on the website of the Museo de Altamira, that takes you into what I presume is the real Altamira cave. Here is a link to that video.
William B. Ashworth, Jr., Consultant for the History of Science, Linda Hall Library and Associate Professor emeritus, Department of History, University of Missouri-Kansas City. Comments or corrections are welcome; please direct to ashworthw@umkc.edu.