Scientist of the Day - Thomas Beddoes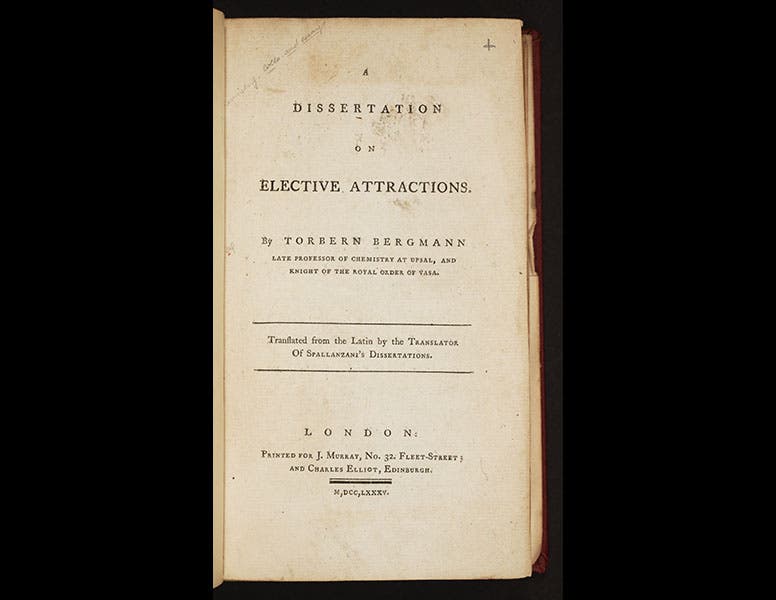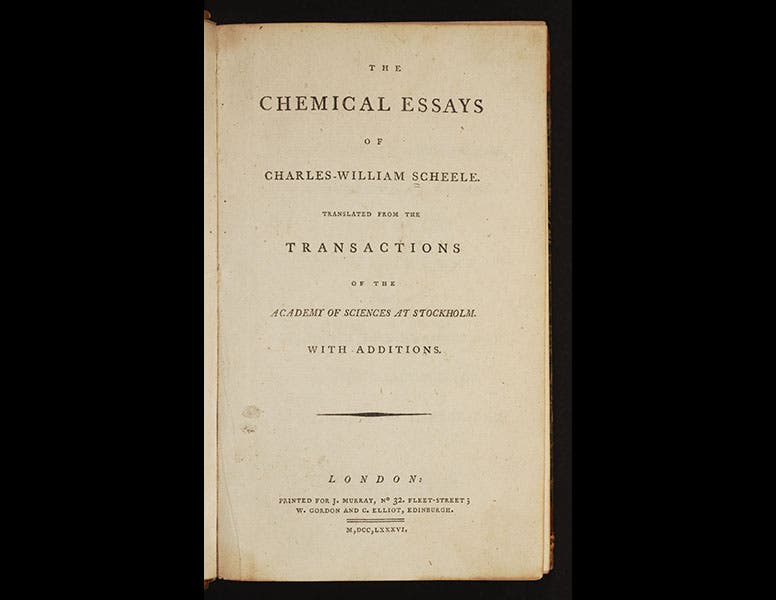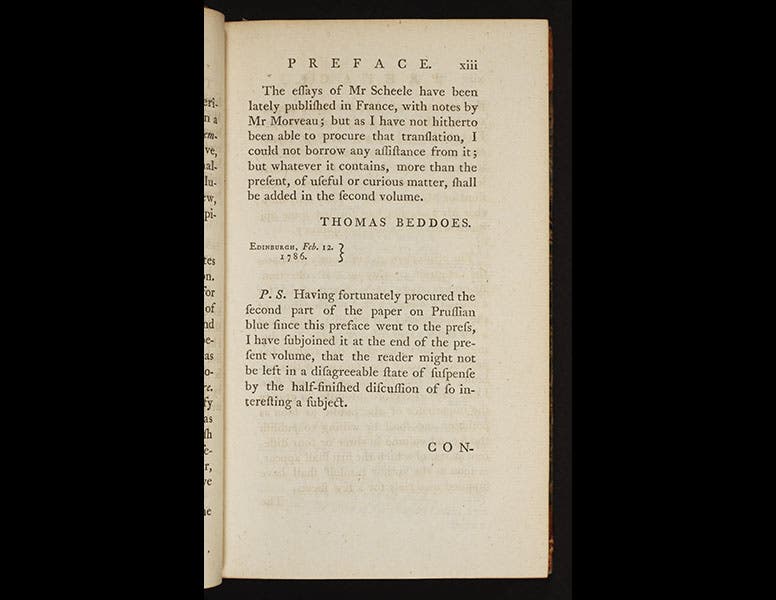 Thomas Beddoes, an English chemist and physician, was born Apr. 13, 1760. Beddoes studied in Edinburgh under the great chemist Joseph Black (who will be our Scientist of the Day on Monday, Apr. 16), and he got his professional start by translating some of the most important chemical treatises of the 1770s into English, including Torbern Bergman's Essay on Elective Attractions (1785) and Carl Scheele's Chemical Essays (1786).  Beddoes modestly left his name off the title pages, but he at least signed the preface of the Scheele work (fourth image).

His teacher Black had discovered carbon dioxide, and Beddoes thought that other newly discovered gases--oxygen, hydrogen, nitrogen--might be useful for medical treatment, especially for diseases that affected the lungs. In the 1790s, he labored to establish a Pneumatic Institution in Bristol, where there were already many hospices for victims of consumption (tuberculosis). Beddoes got financial backing from a variety of supporters, such as the James Watt family, the Josiah Wedgwood family, and from Black himself, but he could get no support from Sir Joseph Banks and the Royal Society, primarily because he was considered a "Jacobin", overly sympathetic to the causes of the French Revolution. This was just after a mob in Birmingham had burned the home and laboratory of Joseph Priestley, another chemist and sympathizer of French democratic ideals. Nevertheless, the Pneumatic Institution finally got underway in 1799, and Beddoes was fortunate in his choice of medical superintendent--a very young Humphry Davy. It was there that Davy did his first experiments with nitrous oxide, which he would make famous as "laughing gas." The Pneumatic Institution operated only for about five years--oxygen therapy provided temporary well-being, but no cures--and Davy moved on to the Royal Institution in London. Around 1804, the Pneumatic Institution changed to become a hospital for the poor, which Beddoes operated until 1808; he passed away in December of that year. The financial backers for all of this deserve a great deal of credit, for the Pneumatic Institution was not a paying concern; Beddoes never charged his patients a fee.

There is an engraved portrait of Beddoes in the National Portrait Gallery, London (first image).  The NPG also has an engraving of 1862 called "Distinguished Men of Science, 1807/08" (fifth image) that depicts 51 notable British scientists who (theoretically) could have been assembled in a room in the Royal Institution in 1808; we have referred to the engraving in these notices several times over the years.  From the ranks of the chemists, the artist depicted John Dalton, Count Rumford, Humphry Davy, and William Hyde Wollaston.  We have always found it odd that Beddoes was not included among the 51.  Perhaps bad feelings toward the French Revolution still lingered.

Dr. William B. Ashworth, Jr., Consultant for the History of Science, Linda Hall Library and Associate Professor, Department of History, University of Missouri-Kansas City. Comments or corrections are welcome; please direct to ashworthw@umkc.edu.