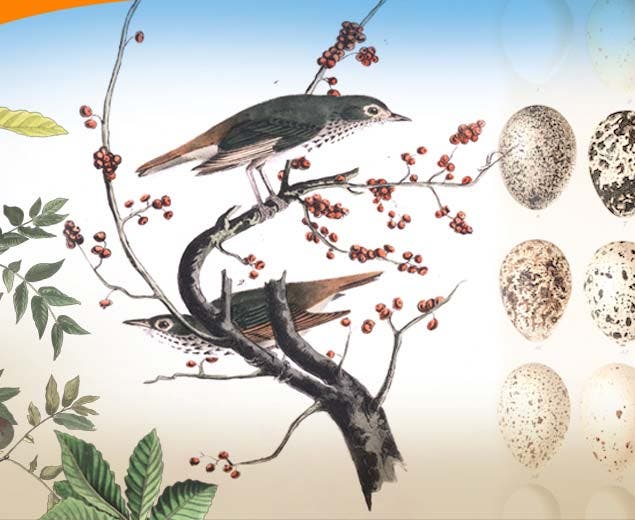 Digital Exhibitions
Drawn from Nature
Art, Science, and the Study of Birds
Modern Field Guides
Expanding Markets for Field Guides
Roger Tory Peterson published a second edition of his field guide to eastern birds in 1939 and added a guide to western birds in 1941. By the time he completed a third edition to eastern birds in 1947, the competition was catching up. In 1946, Doubleday published the Audubon Land Bird Guide, followed by the Audubon Water Bird Guide in 1951 and the Audubon Western Bird Guide in 1957.
Design Innovations
In 1966, Golden Press entered the market with a field guide co-authored by Chandler Robbins and Bertel Bruun and illustrated by Arthur Singer. The Golden Guide was the first to include all North American birds (north of Mexico). The book also featured innovations, such as color-coded range maps and song diagrams, that set the standard for future guides. In recent years, artist and ornithologist David Allen Sibley has provided a new design to field guides with his 2000 publication of the Sibley Guide to Birds.
A New Era of Field Guides
Today, a wide variety of field guides, online resources, and mobile apps are available for all age groups and levels of experience. To birders, the field guides are known simply by the author's or publisher's name: Sibley, Peterson (now in its sixth edition), Kaufman, Stokes, and National Geographic are some of the more popular titles. But their history shows us that behind each title were distinct innovations that sought to better solve the problem of bird identification.