Brent Purkaple
(Travel Fellow, 2018-19)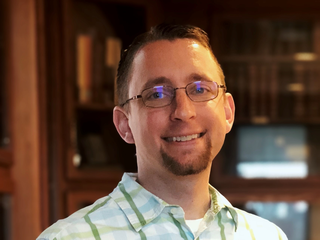 Travel Fellow
Visualizing the Unseen: The Jesuits and optical illusions in early modern Europe
Brent Purkaple is currently a PhD candidate in the Department of the History of Science, Technology and Medicine at the University of Oklahoma. His dissertation research focuses on theories of optics and vision among the Jesuit Order, with a particular interest on the Jesuit engagement with early modern cultures of optical illusion and visual wonder. The aim of the dissertation is to consider how the members of the Society of Jesus utilized the occasion of optical illusions to reframe the relationship between optics and theology. His time at the Linda Hall Library will be focused on his dissertation research.
The Linda Hall Library possesses many important books on optics and vision produced by members of the Society of Jesus. Among those that he will consult are the following: François d'Aguilon's Opticorum libri sex (1613); Christoph Scheiner's Oculus (1619 and 1652); Athanasius Kircher's Ars Magna (1646 and 1671); Gaspar Schott's Magia universalis (1657); Mario Bettini's two-volume Apiaria universae (1642); Melchior Cornaeus's Curriculum philosophiae (1657); as well as Giorgio de Sepi's Romani college societatus Jesu Museum celeberrimum (1678).
In addition to the specific content included in these books, he will be giving close scrutiny to the materiality of the books themselves, recovering the ways in which the books were intended to be used and the ways in which they ended up being used.