Garrett McKinnon
(Travel Fellow, 2019-20)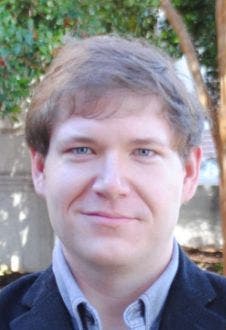 Travel Fellow
Of Airplanes, Pilots, and Drones: A History of U.S. Machine Warfare, 1910-2012
Garrett McKinnon is a doctoral candidate studying United States History at Duke University. He earned his MA (2014) and BA (2012) in History from Louisiana State University.
His dissertation, "Of Airplanes, Pilots, and Drones: A History of United States Machine Warfare, 1910-2012," traces the rationales that guided the substitution of man with machine in war over the twentieth century. McKinnon's work foregrounds cultural contests surrounding gender, technology, and death arguing the recurrent vulnerability of airmen at war made war machines like "pilotless planes," guided missiles, and satellites attractive to U.S. scientists and policy makers.
At the Linda Hall Library, he will analyze archival collections from the National Advisory Committee on Aeronautics, U.S. Air Force, North Atlantic Trade Organization's Advisory Group for Aeronautical Research and Development, School of Aviation Medicine, and Lockheed Aircraft Corporation's Military Operations Research Engineering Division: Human Engineering Department. These institutions studied the physical dangers and psychological stress of flying in war during the 1950s constructing the methodology and criteria for selecting Cold War flying personnel. These documents' dictates of proper pilot performance and requisite mental fortitude help contextualize the anxieties that surrounded the Soviet Union's downing and capture of CIA U-2 pilot Francis Gary Powers in 1960. Powers' refusal to use a CIA-provided lethal injection and his inability to escape or fight off capture led both popular audiences and the Eisenhower administration to identify him as a military liability susceptible to Soviet "brainwashing." Popular and policy debates constructed a dichotomy between flawed man (Powers) and idealized machine (U-2) that helps explain Eisenhower's creation of the National Reconnaissance Office and its developmental turn toward unmanned surveillance machines—satellites and drones.