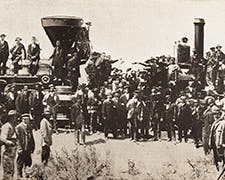 Digital Exhibitions
The Transcontinental Railroad
A History of Railroad Technology
Resources
This website was created with generous support from the BNSF (Burlington Northern Santa Fe) Foundation. The site offers visitors a brief history of the building of the transcontinental railroad as well as information on the history and technology of 19th century railroads. Most important, it offers full text access to the Linda Hall Library's extensive collection of 19th century railroad periodicals.
The railroad periodicals were digitized by Library staff using a camera stand with a V-shaped cradle to minimize damage to these fragile materials. As the text was digitized, it was processed through OCR (Optical Character Recognition) software to make the words searchable. Providing digital versions of the materials for use reduces handling and helps conserve the fragile paper collection.
The website was curated, designed, and authored by Library staff and developed with internet technology company 305 Spin, Inc.
Website Curators:
Donna Swischer, Project Director
Nancy V. Green, Web Site Designer
Eric Ward
Curatorial Contributor:
Sally Crosson
Digitization Team:
Mike Walker, Coordinator
Sally Crosson
Jon Rollins