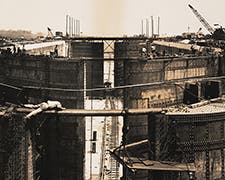 Digital Exhibitions
The Land Divided, The World United
Building the Panama Canal
Tuesday, April 8, 2014
The Panama Canal Expansion Project
Alberto Alemán Zubieta, former CEO, Panama Canal Authority, 1996-2012
Thursday, May 8, 2014
Rails Across Panama: From '49ers to 40-foot Containers
Peter Hansen, editor, Railroad History; and Michael Haverty, Former Chairman, President & CEO, Kansas City Southern Railway
Tuesday, May 20, 2014
Big-Ship Ready: The Post-Panamax Era
Dr. Geraldine Knatz, Executive Director (retired), Port of Los Angeles
Thursday, September 18, 2014 7:00 p.m.
The Panama Canal Watershed: Science, Commerce, and Sustainability
Dr. Jefferson Hall, Staff Scientist, Smithsonian Tropical Research Institute, Panama
Thursday, October 2, 2014 6:30 p.m.
Building the Panama Canal
David McCullough, Pulitzer Prize-winning author and historian
The lecture featuring David McCullough is the Library's premier event in the Panama Canal Centennial public program series.
Lecture video unavailable
Thursday, October 16, 2014 7:00 p.m.
Once in a Century Opportunity: Geology and Paleontology of the Panama Canal
Dr. Bruce MacFadden, Florida Museum of Natural History
Thursday, December 4, 2014
American Medicine and the Panama Canal: Miasmas, Mosquitoes, and Malaria
Dr. Enrique Chaves, University of Kansas Medical Center